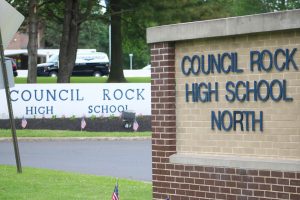 The Council Rock School District will close all schools for students on Friday.
The announcement will allow for schools to be cleaned and teachers to prepare for the possibility of home learning if an extended closure is needed.
The district said they aim to reopen schools on Monday.
Council Rock had already planned an early dismissal for kindergarten through eighth grade students for professional development.
Below is the full letter from Superintendent Dr. Robert Fraser:
Dear Council Rock School Community–
Please be advised that all Council Rock schools will be closed for students tomorrow, Friday, March 13th. I have made the decision to close for students tomorrow for the following reasons:
Provide our teachers with time to prepare for a possible student home learning experience if we are faced with an extended closure. If you haven't seen the latest news out of Montgomery County, all schools and other services are being shut down for the next two weeks.

Provide time for every school to be thoroughly disinfected.
While our schools will be closed for instruction tomorrow, we will still hold Kindergarten and new student registration at our designated buildings. Tomorrow's registration locations and times can all be found at crsd.org. The Champions program will not run tomorrow.
Importantly, please know that for the purpose of safety and welfare, we are postponing districtwide extracurricular activities beginning tomorrow and extending, at minimum, through the end of Spring Break. We will reassess our ability to restart our extracurricular offerings after Spring Break as conditions warrant. This postponement includes ALL K-12 clubs, activities, musical/theatrical performances, PIAA athletics, and field trips. We will still offer our upcoming Saturday, March 14th SAT exam as regularly scheduled. Outside of this one exception, everything else is postponed. I will also note that similar precautions will be in place across Bucks County public schools by Monday at the latest.
Finally, also beginning tomorrow and extending at least through Spring Break, we are stopping all volunteering and outside visitor activity in all of our schools. In instituting this change, we are limiting our school attendance to students and school staff only (other than the need for a parent to visit the main office or attend a meeting in a nearby conference room). This decision has been made in order to contain the community spread in order to protect our students and staff. Also in the category of containing community spread and protecting our students and staff, effective tomorrow we are halting all outside group facility usage during evenings and on the weekends. Within the school day, we will also be limiting, to the extent possible, large-group student gatherings, large-group staff gatherings, and school-to-school student visits.
What we are experiencing is unprecedented. I know that I'm having conversations with my family about COVID-19, and I am positive that you are too. Below you'll find two web links, one from the National Association of Psychiatrists and another from the American Academy of Pediatrics. You may find them helpful tools to reference when having at-home discussions on COVID-19.
National Association of School Psychologists: Talking to Children About Coronavirus

American Academy of Pediatrics: 2019 Novel Coronavirus (COVID-19)
I am hopeful that we will resume school districtwide on Monday. I'll be sure to keep you informed over this weekend of any events that may change our ability to open our doors as normal. Thank you for your support as we collectively work through this challenging time together.

-Dr. Robert Fraser

Superintendent of Schools
In Pennsylvania, there were 22 COVID-19 cases, with 13 being in neighboring Montgomery County as of Thursday evening, according to the Pennsylvania Department of Health.
As of Thursday evening, Bucks County had two confirmed COVID-19 cases.
In an effort to reduce the spread of the virus, state officials announced that schools, child care centers licensed by the state, and adult daycare centers in Montgomery County will be closed for 14 days starting Friday. The governor asked that non-essential retail facilities close and non-essential travel be halted in the county.
State officials "strongly encourage" the suspension of large gatherings; discourages people from going to gyms, movie theaters, and shopping malls; and encourage religious leaders to "exercise discretion in order to mitigate the spread of illness."