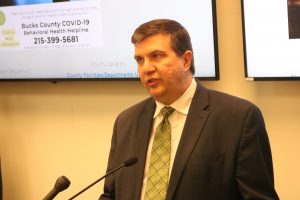 Bucks County has the supplies it needs and has more on the way, top officials said Thursday.
As the COVID-19 outbreak expands and concerns about community spread are realized, the county has begun distributing vital medical supplies and has ordered additional materials.
"No significant concerns that we can't manage or handle the situation at this point," said Scott Forster, director of the Bucks County Emergency Management Agency. "What I'm saying is there's no need to panic."
In the Bucks County Emergency Operations Center, a white board was tracking orders of cleaner, four-gallon jugs of hand sanitizer, nitrile gloves, cartridges for respirators, surface wipes, N95 masks, and other personal protective equipment.
Forster said some supplies have been easier to come by than others.
County emergency planners have been working with hospitals on making sure they have adequate supplies, equipment, and staff to handle a potential "influx of patients to those facilities."
Emergency medical responders and police have been handed masks with additional ones coming in going to public safety, hospital staff, and long-term care facility workers, Forster said.
"We have a great logistics plan to distribute them," he said.
The county has also requested goods through the Strategic National Stockpile, a large federal supply of medical supplies scattered around the nation. The county's request has to go through state government. Amid the COVID-19 outbreak, supplies from the national stockpile have been tapped in other parts of the country.
So far, officials reported that there has been no shortage of supplies, but that could change if hospitals are flooded with patients dealing with COVID-19, a worry that has spurred fevered mitigation efforts across the nation.
Due to mitigation guidance and orders, COVID-19 has had a major impact on small- and medium- sized businesses. Tens of thousands of people in the state are newly-unemployed.
Commissioner Bob Harvie said there are efforts underway to help small business and those displaced. A planning session was already held this week.
A conference call between officials at the county, state, and federal levels is planned to discuss ways to keep businesses afloat. The county is also looking at the use of existing federal and state funding, Harvie said.
The commissioner said Bucks County Career Link has heard from grocery stores that are looking to hire.
The impact on the hospitality industry that employs 28,000 people in Bucks County is expected to be heavy. The full impact is not yet known, Harvie said, encouraging people to use those businesses when they reopen.
"This is one of those times we need to work together," he said.
Commissioner Chairperson Diane Ellis-Marseglia urged residents to visit the county website for tools on explaining the current situation to kids and how to seek help for mental health or addiction issues.
"Don't panic. Just continue to do the common sense precautions that everybody has talked about since the beginning," Commissioner Gene DiGirolamo said.