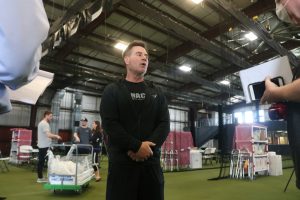 Jim Worthington, the owner of the popular Newtown Athletic Club, thought the 35,000-square-foot Newtown Sports Training Center might be useful for a blood drive or storage center during the COVID-19 pandemic.
Weeks after his first phone calls offering to allow use of the facility at no cost, Bucks County officials were at the sports complex next to the Newtown Athletic Club on Penns Trail setting up a field hospital.
The field hospital is set to handle overflow if area medical centers are overwhelmed by a surge of patients in the coming weeks.
The temporary set-up would be designed to handle Tier II and Tier III patients. It is being set up in four sections to deal with COVID-19 patients and non-COVID-19 patients.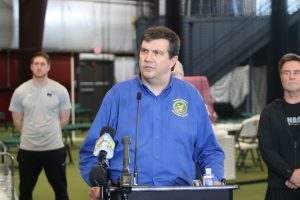 Bucks County Emergency Management Agency Director Scott Forster explained that Tier II patients are not in life-threatening condition but require limited care due to existing conditions, and Tier III patients need oxygen, IV treatment, and a bit more care.
"They're not ready to be released yet, but they need a few more days of treatment," he said.
Forster explained the county presently has enough capacity at hospitals, and he stated his hope is the field hospital won't have to be used.
"We do monitor the bed availability at the hospitals daily," Forster said, adding staffing is also monitored.
The field hospital is being set up using county and state equipment. It is organized by the county and would be overseen by numerous agencies.
Forster it will take a few days for the field hospital to be completely set up.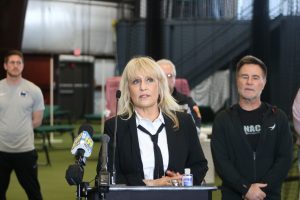 If needed, the field hospital will be staffed by the county Bucks County Medical Reserve Corps, a group of more than 250 volunteers. The unit is staffed largely by retired medical personnel.
The U.S. Army Corps of Engineers have evaluated sites in Middletown and Upper Bucks County for use as possible overflow hospitals with support from the federal government. Forster said federal officials have ruled out the Middletown site, but are prepared to use the upper-end site if needed.
Worthington, who became emotional, said he stepped forward to allow use of his property because the community has come together to support him and his business over the decades.
"I can't think of a better way to chip in and help the community," he said, noting the county and his staff should be thanked for their efforts.
Bucks County Commissioner Chairperson Diane Ellis-Marseglia and Commissioner Bob Harvie commended Worthington for offering up the facility.
Bucks County officials thanked Newtown Township officials for their work with Worthington to make the facility possible.
Worthington noted that the Newtown Sports Training Center is separate from the Newtown Athletic Club, but he owns both businesses. He said the facility hosts indoor sports training and has served as a venue for then-candidate Donald Trump in 2016 and hosted country music star Dierks Bentley for a concert in 2018.