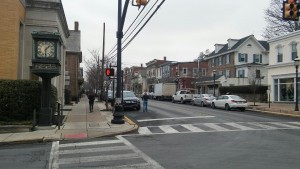 While there isn't a date for when a large number of Bucks County's businesses can move toward reopening, work to prepare is well underway.
The Bucks County Commissioners confirmed they plan to use at least $6 million of the $109 million in federal COVID-19 aid to offer relief grants to small businesses. The details on the plan remained in the works as of Thursday.
Commissioner Bob Harvie, a former teacher who took office in January, has been spearheading the county's business reopening effort.
"We're going to work to put some money out on the street," he said.
The commissioner said there could be a second round of grants for small businesses in the county after the $6 million is distributed.
Harvie has also been meeting with a task force of local business leaders, labor representatives, and staff of business organizations to discuss ways to get the local economy moving again. The group held their first session virtually last week. Its members include: Danielle Bodnar, of the Upper Bucks Chamber of Commerce; Vail Garvin, of the Central Bucks Chamber of Commerce; Minesh Pathak, of the Lower Bucks Chamber of Commerce; Patrick Kennedy, vice president of Superior Woodcraft; Jon Mercer, of Stacks Small Business Services; Billie Barnes, of Bucks County Workforce Development Board; Tom Tosti, a Middletown Township Supervisor and chair of the AFL-CIO Central Labor Council; Paul Bencivengo, of Visit Bucks County; Steve Wray, chair of the Bucks County Transition sub-committee on Economic Development; Jeane Vidoni, President of Penn Community Bank; Richard Harvey, of the Bucks County Planning Commission and Agricultural Preservation Board; and Margaret McKevitt, the chief operating officer of Bucks County.
Harvie said the committee will have a significant impact in helping businesses dealing with COVID-19 impacts.
Among the tasks being overseen by the county are preparing guidance for businesses that will eventually be reopening to serve customers in person. He said that guidance and information will be useful for businesses looking forward to reopening and keeping staff, customers, and the community safe.
The information offered to businesses by the county will be direct and consistent with best practices, Harvie said.
On Wednesday, a staff member for the governor's office told officials that Bucks County is "rapidly moving" toward reopening with some mitigation measures in place.
"The representative (of the governor's office) was very helpful and appreciated the difficult position everyone is in due to the prolonged stay at home order," the commissioners said in a statement.
In conversations with business owners, Harvie said he's had to give them the "bad news" that reopening is still likely some time away.
"They've understood and they understand how bad this. This is not the typical run-of-the mill flu we're talking about. Nations around the world don't shut down their economies for a flu," Harvie said.
Bucks County officials have been on regular calls with representatives from neighboring counties discussing COVID-19 and talking about reopening.
"It requires patience, but we're going to get through," Harvie said.