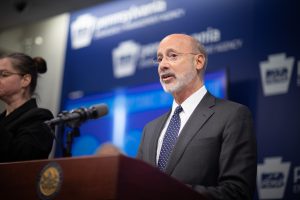 In terms of lifting Gov. Tom Wolf's COVID-19 stay-at-home order, less is more.
Wolf, a Democrat from York County, said during a Friday afternoon press conference that less COVID-19 cases will help counties move from the "red" phase to "yellow," allowing more businesses to reopen.
As of Friday, 37 counties statewide have moved from the red phase to yellow.
Wolf announced a total of 12 more counties will reopen at 12:01 a.m. next Friday. The counties are: Adams, Beaver, Carbon, Columbia, Cumberland, Juniata, Mifflin, Perry, Susquehanna, Wyoming, Wayne, and York.
Bucks County and the others in the Philadelphia region remain in the red phase with no end date in sight. However, Wolf's stay-at-home order is set to expire on Thursday, June 4, but that could be extended or rescinded before that date.
No county has moved to the green phase.
"Instead of feeling frustrated about living in a red phase or a yellow phase county," Wolf said, "consider this: we have saved lives by what we've done."
"Through our social distancing efforts, we have not only reversed a trajectory of exponential new case growth – we have cut it in half," he stated. "And some of the counties that will be shifting into the yellow phase next week eliminated concerns that we had just two weeks ago. So please, keep up your efforts in the fight so we can continue to add counties to the list of those in the yellow phase. Thank you again for your patience and your hard work."
Bucks County officials have asked Wolf for a reopening date, but state officials have declined to give one. The Bucks County Commissioners said they do not plan to defy the governor's order.
Pennsylvania Health Secretary Dr. Rachel Levine said there are numerous factors, including the number of cases, ability to handle cases, location, and contact tracing efforts, before a county is approved to move from red to yellow.
Levine said mitigation measures will help keep cases declining around the state and keep counties from moving back to the red phase.