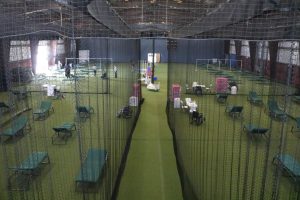 The overflow field hospital that was to be used in case Bucks County medical centers were overwhelmed by patients at the peak of the initial wave of COVID-19 cases was taken apart last week.
The temporary medical facility at the Newtown Sports Training Center next to the Newtown Athletic Club on Penns Trail in Newtown Township was set up in early April but never needed to be used.
Jim Worthington, the owner of the facility, donated the space at no cost to the county.
Roughly 100 beds were set up in the 35,000-square-foot sports training building. The site, which has easy access to major roadways and was minutes away from the most densely populated portions of the county, would have been able to care for patients ranging from those in non-life-threatening condition to those who needed oxygen and intravenous therapy.
County officials said in early April that the center could take COVID-19 positive or non-COVID-19 patients if needed.
The site was set up as COVID-19 case numbers climbed. In recent weeks, the number of new infections has begun to slow. 
"Our hospitals did a good job, and we have good bed availability as a whole throughout the county," Bucks County Emergency Management Agency Director Scott Forster said when asked about the site closing.
Area hospitals have treated hundreds of COVID-19 patients at a minimum. Forster said at some times, intensive care units and medical surge capacity at hospitals were filled but never enough to warrant opening the overflow site.
The overflow site was not guaranteed to be needed, but Forster said in April the county wanted to be prepared in case it was.
If it would have been activated, the site would have largely been staffed by the Bucks County Medical Reserve Corps, a group of more than 250 volunteers.
Forster said the only "minimal cost" the county incurred was for staff time for setting up and taking down the set up.
The equipment placed at the site is owned by the county or supported by the state and staged in Bucks County for use in emergencies.
Weeks into the pandemic, the county and the U.S. Army Corps of Engineers evaluated closed medical centers in Middletown and Upper Bucks County for use as possible overflow hospitals with support from the federal government. Work on those sites never moved forward.