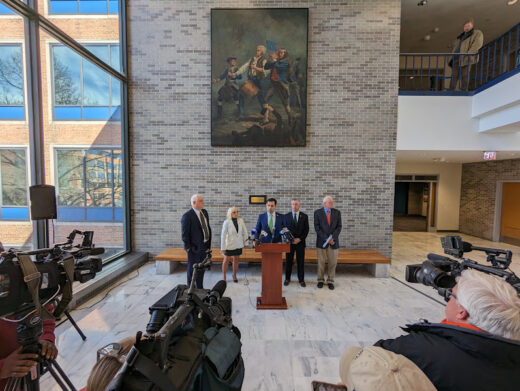 Bucks County has become the first county government in the U.S. to sue social media companies for what they allege is the "harm their platforms have inflicted on the mental health of the county's children."
The commissioners – two Democrats and one Republican – and District Attorney Matt Weintraub, a Republican, filed a joint lawsuit this week against the companies behind TikTok, Facebook, Instagram, YouTube, and Snapchat. The legal action was filed in federal court in the Northern District of California and is anticipated by attorneys to be brought into a potential larger class-action case.
The joint lawsuit alleges the social media firms violated Pennsylvania's public nuisance law and the Pennsylvania Unfair Trade Practices and Consumer Protection Act.
"Today marks our latest step to hold corporations accountable for egregious misconduct that harms our community," Bucks County Solicitor Joe Khan said during a Wednesday press conference. "We are proud to be at the helm of this important litigation and to stand united as a county."
Khan said the county and district attorney want social media companies to reimburse the county for costs related to social media impacts on kids and also to make changes to the way their platforms target young people.
"Unfortunately, these companies have chosen to pursue childhood addiction as a business model and to treat the attention of young people as a commodity to be traded," Weintraub said.
In a news release, county officials said: "The complaint alleges that, using mechanics akin to gambling, the platforms manipulate users with 'Intermittent Variable Rewards' (IVRs) that deliver addicting shots of dopamine as users browse continuous, algorithmic, personalized streams of content and advertisements. The suit says the platforms make frequent design tweaks aimed at maximizing screen time and promoting excessive, problematic levels of use."
The county government said it has been impacted as the funder of youth mental health services. It noted costs for services to youth have increased due to social media's impact.
During the 2021-2022 school year, assessments in Bucks County revealed that 40 percent of school-aged children were at risk for major anxiety and 34 percent of students were at risk for moderate-to-severe depression. More than a quarter of school-aged children in the area have previously considered suicide, according to county officials.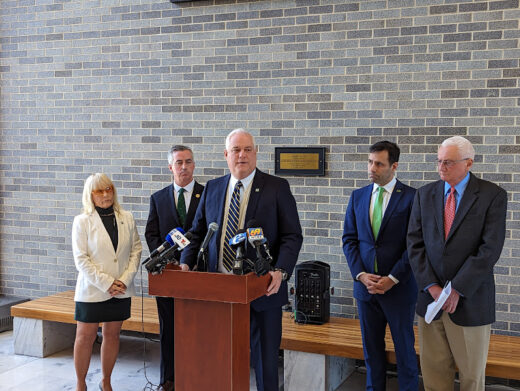 The complaint claims that 51 percent of girls reported having "persistent emotions of melancholy and hopelessness" in 2021, which is up from 36 percent in 2011. Boys reported feeling more throughout the same time span, going from 21 percent to 29 percent.
In Bucks County, law enforcement resources have been used due to an increase in social media-related behavioral disorders. In one incident in 2022, a teen was detained after threatening to "shoot up" a Central Bucks County high school on Snapchat, according to the lawsuit.
In other instances, the lawsuit said, kids taking part in TikTok "challenges" have hurt individuals, sparked panic attacks, and destroyed property in Bucks County.
"This complaint does not seek to disparage, discipline or discourage technology. Social media has the potential to be a useful tool for learning and growth for entrepreneurship and showcasing one's skills. However, these platforms increasingly define the world around our youth, creating social realities and interactions. Safe and healthy social media use by children and teens lies in stark contrast with the deliberate design of platforms," the lawsuit stated.
Harvie, who previously was a teacher at Bucks County Technical High School, said he saw the growth of students using social media through his years in the classroom.
"I watched as phones became an appendage," he said.
"The negative effects these platforms have are real, they are serious, they are quantifiable, and they cannot be allowed to continue," Harvie added.
Weintraub said social media has become central to the lives of children.
"They've taken advantage and preyed on our children," the district attorney said of social media companies.
Commissioner Diane Ellis-Marseglia said TikTok is a bad habit for her and she knows kids like it even more. She added that social media companies have designed their platforms to pull in children.
"I'm 62 and I keep getting pulled back," she said of TikTok.
Commissioner Gene DiGirolamo said parents play a part in making sure their kids don't spend too much time on social media, but he also noted the companies play a key role to make sure their products aren't impacting kids negatively.
"I think, at the end of the day, we're going to find out what the social media companies are doing is preying on our young people," he said.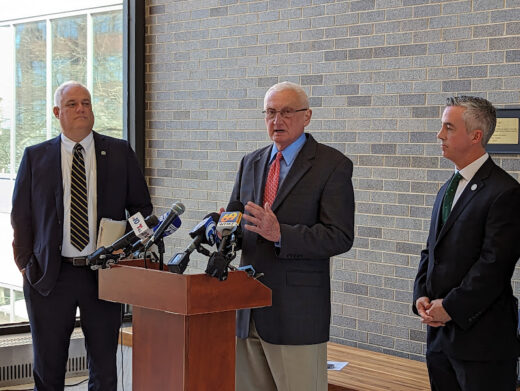 County officials believe their lawsuit will show the social media companies knew their platforms were harming children and they did little because of the large revenues they were pulling in.
Robbins Gellar Rudman and Dowd, a law firm with locations in Pennsylvania and California, is representing the commissioners and district attorney in the court case.