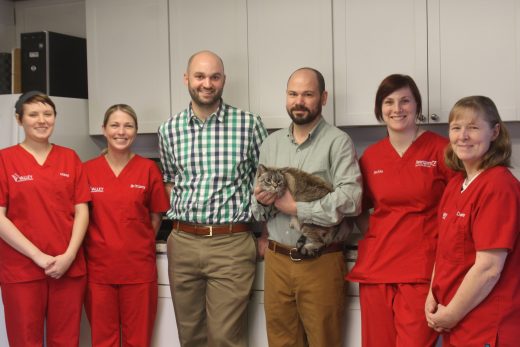 Working with animals runs in Dr. Chris Feaster's blood.
Dr. Feaster, who owns the Valley Veterinary Clinic on Durham Road in Buckingham, is carrying on a family tradition that started with his great grandfather and grandfather, who worked as large animal veterinarians in Bucks County.
He's taking his family's love and passion for animals and making it his own. Dr. Feaster bought the Valley Veterinary Clinic on Durham Road in April 2016 from Dr. Mark Klingensmith, who retired after a long career.      
Dr. Feaster has focused his small, but competent practice on providing excellent quality care using state-of-the-art equipment for a reasonable price.
"We enjoy practicing high quality medicine," Dr. Feaster explained.
Dr. Feaster grew up in Newtown Borough walking neighborhood dogs and working for a local kennel, in addition to a part-time job at a local vet.  After graduating with a Bachelor's Degree in Civil Engineering from Virginia Tech, he attended the University of Pennsylvania School of Veterinary Medicine where he received his veterinary medicine degree.
While in veterinary school, he spent his summers working for one of his professors in the Penn Vet Swine Department and traveled across Pennsylvania researching pig behavior and humane housing of production swine.  This opportunity provided an eye-opening experience for the young veterinarian.
"You would look into their eyes and you could tell they were thinking," Dr. Feaster recalled, adding that he helped install feeders for large humane production facilities in Iowa and Texas.
After graduating, Dr. Feaster spent several years in Shippensburg, Pennsylvania practicing medicine on everything from pocket pets to dogs, cats, pigs, cows, and various other farm animals.
Due to a lack of access to veterinary specialty care in that area, Dr. Feaster received vast experience working in different settings as a small animal and farm vet. He credits his mentors for their help in developing his skill set.
"You learn the basics and gain the knowledge in veterinary school, but the reality is mentorship in the field is extremely important," Dr. Feaster said.
Some notable experiences were intestinal surgeries on cows and a Cesarian section on a sheep. The hours were hectic and he recalled having to deliver a calf or deliver puppies in the middle of the night, only having to return to work early the next morning.
The long hours led Dr. Feaster to a small animal practice in northeastern Pennsylvania where he worked with a wildlife refuge seeing owls, squirrels, and domestic pets. Dr. Feaster and his wife, Dr. Layne Chaya, who is also a veterinarian, ended up settling in Upper Makefield where he began work at a local vet practice.
Wanting to eventually own his own practice, Dr. Feaster got the chance last year and took over ownership of the Valley Veterinary Clinic. The practice welcomes dogs, cats, pocket pets, small farm animals, and birds (the latter for nail and wing trims only).  Dr. Feaster, being an owner of his own flock, enjoys talking with his clients about their chickens. 
The staff consists of experienced caregivers with years of pet handling under their belts.
Dr. Brianne O'Loughlin, a graduate of UPenn joined the practice recently. Dr. O'Loughlin has many years of experience as an emergency clinician.
Dr. Jen Rinehimer also joined Valley Veterinary Clinic and is a graduate of University of Michigan College of Veterinary Medicine. She has experience with small animal companion medicine and surgery.
Dr. Feaster explained that the Valley Veterinary Clinic offers cost-effective, quality care, while providing a one-on-one relationship with the staff.
Upon arrival, patients are promptly taken into an exam room from the reception area, helping to alleviate the stress of having numerous animals waiting in the same space.
The team at the Valley Veterinary Clinic ensures sufficient time is given during an appointment with blocks set aside for any emergency that may arise so they can be seen as quickly and possible.  If a situation arises that the doctor feels needs a more specialized opinion, the team will refer clients and their pets to local specialists who they work closely with in order to provide quality and timely care.
One of Dr. Feaster's first purchases after acquiring the practice was a state-of-the-art anesthesia monitoring machine, which is an integral part of keeping the pet patient safe while they are undergoing a surgical procedure. The practice has also upgraded to a full in-house diagnostic, which offers a variety of test results in 15 minutes. A digital x-ray and new ultrasound machine ensure prompt results. If needed, a radiologist can be consulted to review films within an hour.
In addition, two experienced groomers are available to provide their services on Mondays and Wednesdays. The practice also offers in-home euthanasia services for clients who wish to say goodbye to their family member at home. These appointments are available on a limited basis and advanced scheduling is required.
Recently, the practice has transitioned to a completely computerized record system. Dr. Feaster explained the new patient management system is a more efficient way to organize patient records and test results.
Online appointment scheduling can be done by accessing the practice's website. Confirmation emails are given within a 24- to 48- hour period and follow up phone calls are performed if more information is needed prior to the appointment. Client referrals are encouraged and each party receives a $10 referral credit to be used towards pet patient services.
Dr. Feaster strongly believes in the importance of giving back to the community. He donates his time and offers complimentary and/or reduced fees for services to animal rescue groups.  He works with Susan Magidson, owner and operator of Ross Mill Farm, a pig sanctuary located in Richboro, to help spay and neuter pot-bellied pigs for the Pig Placement Network.
In addition, the Valley Veterinary Clinic works with the Bucks County SPCA in showcasing cats that are looking for their forever homes. The clinic provides the cats with food, litter, medical care and love from staff and clients during their visit. Dr. Feaster is happy to report that greater than 90% of the SPCA cats have been placed with new families.  Each cat can spend up to three weeks at the practice in order to gain exposure outside of the SPCA.  However, most are adopted prior to that time.
He also provides discounted services to the Australian Cattle Dog Rescue Association, helping treat sick or injured Australian cattle dogs, including many with heartworm disease.
To learn more about the Valley Veterinary Clinic and to see the newest feline guest looking for their forever home, please visit  http://www.valleyvetpa.com/ or on social media at http://www.facebook.com/ValleyVetPA and http://www.instagram.com/ValleyVetPA
Dr. Feaster is offering new clients who mention this article a $25 discount off of their first visit.