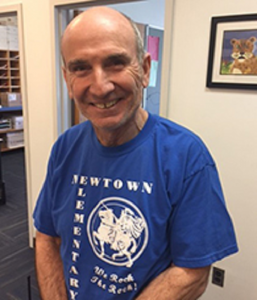 Newtown Elementary School maintenance supervisor Ted Qualli was named 2017 Janitor of the Year Monday.
The 45-year Council Rock School District employee received more than 40 percent of 898,220 votes cast in Cintas Corporation's national competition. During a packed assembly Monday, Qualli was crowned Janitor of the Year and will receive a $5,000 cash prize.
Students cheered and applauded as Qualli made his way to the stage to accept his award.
"Ted is the glue that holds this school together and a role model to the entire community," said Kevin King, principal of Newtown Elementary. "Whether we have a student who's concerned about monsters in the restrooms, kicked balls stuck on the roof or a staff member with a flat tire, Ted is always there to help out."
The U.S. Air Force veteran is known for his dedication to the students and school community. He often talks to students about his service on Veteran's Day and hands out  vegetable seedlings from his home garden to students every spring.
It's not uncommon to hear chants of "Qual-li! Qual-li!" when the beloved maintenance supervisor roams the halls of Newtown Elementary School.
There were nine school janitors that Qualli faced up against in the competition.
"School janitors are the epitome of an everyday hero, going far beyond their requirements to provide students and staff with a clean and safe learning environment," said Jillian Bauer, assistant marketing manager at Cintas. "This contest is a way of shining a much needed spotlight on these hardworking heroes and giving them the recognition they deserve."
The community rallied behind Qualli when it was announced he was a finalist in the competition earlier this year.
Qualli, 66, graduated from Council Rock and returned to the district after his 10 years in the Air Force. His wife Marie and daughter Dawn all work for the school district.
Wow! TY @CintasCorp and students/parents of Newtown Elem. School for honoring my Dad! #janitoroftheyear https://t.co/qjHM5dJQDw

— Ted Qualli (@Quallit) May 1, 2017