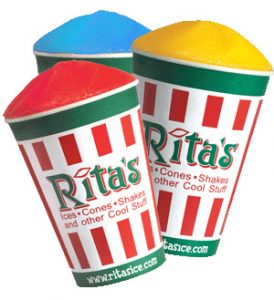 The first day of spring is here and Rita's Italian Ice locations are offering free water ice.
The Bensalem-based company with locations around the country and now the globe will offer a free water ice cups to help welcome spring.  The nearest Rita's is located at 14 Swamp Road in Newtown.
"We strive to not only serve our guests fresh, delicious Italian Ice, but happiness too," said Linda Chadwick, Rita's President and CEO. "The First Day of Spring, along with a free cup of Rita's Italian Ice, gives us the perfect opportunity to start the season by bringing a smile to everyone's face. Guests begin calling two weeks in advance to ensure they don't miss the fun."
This year, Rita's is offering a three-day, two-night "Ultimate Hooky Trip" to Miami The Rita's fan who posts the best reason to ditch their daily responsibilities on the first day of spring and get their free Rita's will be entered. The contest will take place on Rita's Facebook page and the company's fans will be able to select the best excuse.
Rita's plans to give out more than one million cups of their classic water ice.
Former Philadelphia firefighter Bob Tumolo started Rita's in Bensalem in 1984. Since then, the company has been sold and expanded with stores across the globe.
If you're looking to support smaller, locally-owned businesses, Zebra-Striped Whale is located on State Street in Newtown Borough, Owowcow Creamery is off Durham Road in Wrightstown and Goodnoe Farm Dairy Barn is on South Sycamore Street in Newtown Township.