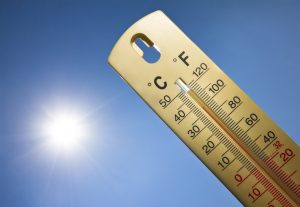 Forecasters warn that a "dangerous heat wave" will impact the Newtown-area this weekend and through the Fourth of July.
Some of the hottest weather so far this year will bear down on the region this weekend and during the following days, forecasters said.
In addition to temperatures in the high 90s and a peak of 100 degrees predicted for Sunday, high humidity values will lead to dangerous heat indices that will exceed 100 degrees throughout the coming days.
An excessive heat warning was issued for Sunday and Monday by the National Weather Service.
Bucks County officials announced they will extend the hours of two Lower Bucks County senior centers during the coming days. The Bristol Borough Area Active Adult Center on Wood Street and the Bristol Township Senior Center on Bath Road will be open from 10 a.m. to 6 p.m. Saturday and Sunday and from 9 a.m. to 6 p.m. Monday and Tuesday.
The county Area Agency on Aging warned seniors that extreme heat can cause heat-related illnesses. They warned the elderly residents are more susceptible to illnesses.
Pennsylvania Department of Health Secretary Dr. Rachel Levine recommend the following summer safety tips:
Remember to wear:
​Lightweight, loose-fitting, light-colored clothing;
A hat or visor;
Sunglasses; and
SPF 15 or higher sunscreen (reapply as necessary).
To stay hydrated:
​Drink plenty of water throughout the day – don't wait until you are thirsty!
Outdoor workers should drink between two and four cups of water every hour.
Avoid consuming caffeinated, alcoholic, or sugary beverages.
Replace salt lost from sweating by drinking fruit juice or sports drinks.
To safely exercise:
​Limit outdoor exercise, and stay indoors in air conditioning on hot days.
Exercise early in the morning or later in the evening to avoid the hottest part of the day. (11 a.m. – 3 p.m.)
Pace yourself when you run, walk, or otherwise exert your body.
To protect others:
​Never leave children, older adults, or pets behind in a vehicle.
Check on those who may be more at risk from extreme temperatures like:

​Infants and young children
​People ages 65 and older
People with chronic medical conditions
The county Area on Aging advised they may have fans available for seniors who do not have one or an air conditioner.
Elderly Bucks Countians can call 267-880-5700 for help during the period of extreme heat.