Family members of the young men murdered on a farm in Solebury a little over a year ago stood with Democratic state representatives as they announced the introduction of legislation to tighten Pennsylvania's gun laws.
Outside the Solebury Township building Tuesday afternoon, State Rep. Helen Tai announced three pieces legislation she will introduce. The first would require gun owners to secure firearms if a person who cannot legally possess a gun lives in their home, while the second would require safe storage of firearms when not under the owner's direct control. The third piece of legislation would require gun owners to report their firearm stolen or lost within 24 hours of them noticing the disappearance of the gun. The packages propose criminal penalties for those who fail to comply.
The families of Dean Finocchiaro, 19, of Middletown; Thomas Meo, 21, of Plumstead Township; Jimi Patrick, 19, of Newtown Township; and Mark Sturgis, 22, of Pennsburg, Montgomery County, were on hand. They did not offer comment to reporters during the press conference.
Cosmo DiNardo, who was sentenced in May to four consecutive life sentences for the July 2017 murders of the four young men on his family's farm, used his mother's .357-caliber handgun in the brutal crimes, according to prosecutors. DiNardo was not legally allowed to possess a firearm due to being involuntarily committed for treatment of schizophrenia.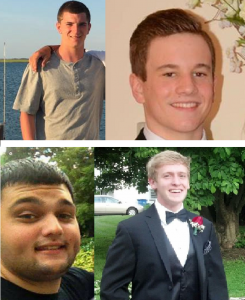 "Because the commonwealth currently has no requirements regarding the safe storage of firearms, no member of DiNardo's family was held accountable for permitting him access to the firearm used in the murders," Tai said. "The lack of such requirements leaves our children unacceptably vulnerable to murders, fatal accidents, suicides, and school shootings."
"I cannot bring back Dean, Jimi, Tom, or Mark, but I will not look into the faces of these boys' families and say there is nothing we can do when in fact the Pennsylvania legislature has the ability and authority to act," Tai further stated.
State Rep. Perry Warren said the three pieces of legislation, if enacted, will help curtail gun violence.
Warren further stated he would reintroduce a universal background check bill in Harrisburg to close the so-called "gun show loophole." A previous version of the bill failed to move out of the House Judiciary Committee earlier this year.
"We are going to continue to introduce this universal background check bill until it passes and becomes law," he said.
Gun restriction bills have been introduced in the past in Harrisburg but often die.
Tai said she believes her proposals are ones that gun owners can easily support.
Shira Goodman of CeaseFire PA thanked the two lawmakers for the legislation. She further added that they bills won't penalize legal gun owners and will keep Pennsylvanians safe.
"Those law-abiding gun owners need to stay law abiding, and they need to make sure their loved ones stay law abiding," she said.
Tai, who was a Solebury supervisor at the time of the quadruple homicide, said she planned once the press conference ended to begin working to gain support in Harrisburg for her package of legislation.
Finocchiaro, Meo, Patrick, and Sturgis' families are all suing DiNardo, his parents Sandra and Antonio DiNardo, and related entities in civil court.
DiNardo's cousin Sean Kratz is set to stand trial for his involvement in the killings of three of the young men. Unlike DiNardo, he rejected a plea deal offered by the Bucks County District Attorney's Office in May.