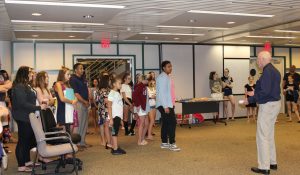 An arts-focused charter school has withdrawn from its plan to open at an office building in Bensalem and is seeking a new location in Lower Bucks County.
TLC Bucks Arts Charter High School had submitted an application with the Bensalem School Board to open in a 40,000-square-foot building on Northbrook Drive. However, the site has fallen threw with the developer unable to come to terms with the owners of the building, according to a press release from the charter school.
Due to the previous location not working out, the charter school is looking across Lower Bucks County for a new location.
Dr. Thomas Lubben, founder and CEO of TLC Arts, had hoped to open his not-for-profit charter school in time for a 2019-2020 school year, but the newest delay has pushed the timetable to a proposed 2020-2021 school year opening.
The charter school plans to offer courses of study in dance, figure skating, music, theater, literary arts, and visual arts.
In summer, the school offered a number of open houses to meet with students and parents from across the area.
"There are more than 150 students who are pre-enrolled, which simply means they would be interested in attending. There's no obligation for them to do so," charter school spokesperson Theresa Katalinas said.
Lubben has helped open four charter arts schools in the Lehigh Valley and recently approved in Dakota County, Minnesota. The school in Minnesota is slated for a September 2020 open.