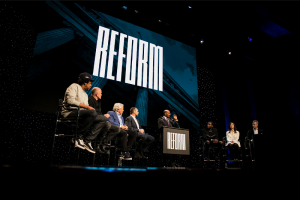 Top Pennsylvania officials are throwing their support behind a celebrity-backed criminal justice reform organization.
On Wednesday in New York City, Gov. Tom Wolf , Lt. Gov. John Fetterman, Attorney General Josh Shapiro, and Pennsylvania Department of Corrections Secretary John Wetzel attended the launch of the REFORM Alliance.
Inspired by Philadelphia rapper Meek Mill's jail time for probation violations, the group is backed by $50 million from its founders, which includes New England Patriots owner Robert Kraft, Philadelphia 76ers co-owner and Fanatics executive chairman Michael Rubin, Jay Z, Brooklyn Nets co-owner and philanthropic investor Clara Wu Tsai, Third Point LLC CEO and founder Daniel S. Loeb, Galaxy Digital CEO and founder Michael E. Novogratz, and Vista Equity Partners chairman and CEO Robert F. Smith.
"I believe that this founding group, we have a responsibility to give a voice to the millions of voiceless. But my voice and Meek's voice alone, it is not enough. And that's why we wanted to build the most incredible team of founding partners that care deeply about this issue and want to put significant capital against the issue and also have major platforms that can help shed light to the situation," Rubin said, according to Complex Magazine.
"I have been a steadfast supporter of criminal justice reforms that are fair, help our system work better and smarter, and save crucial taxpayer dollars while balancing public safety and victim concerns," Wolf said. "The passionate supporters of criminal justice reform here today invited my administration to attend this announcement because Pennsylvania is a leader in commonsense reforms. I'm pleased to be here today."
The REFORM Alliance has tapped CNN political commentator and activist Van Jones, who has worked with President Donald Trump's administration on criminal justice reform, to lead the organization.
Wolf's office said the governor has worked with lawmakers from both sides of the aisle to move forward several criminal justice reforms, including the Clean Slate Law.
In his second term, Wolf pledged to support probation reform, an initiative to address the cost of incarceration, updates to the pre-trial system, and adding rehabilitation efforts to reduce the risk for recidivism.