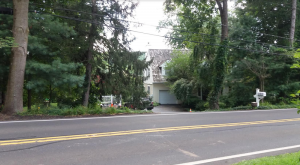 Michael McNew's lifeless body sat in a chair inside his River Road home looking out at the Delaware River. In a photo shown Thursday in court, everything appears orderly and neat aside from the body of the pharmaceutical firm sales manager.
While the scene seemed peaceful at a glance, it quickly became clear to the first people who found McNew inside his art-filled home that something was very wrong.
Prosecutors hope to convince a jury at the Bucks County Justice Center in Doylestown Borough that McNew's 34-year-old on-and-off-again girlfriend Jennifer Lynn Morrissey was behind the murder of the 64-year-old man who financially supported her.
Morrissey is facing charges of criminal homicide, burglary, possessing instruments of crime and tampering with or fabricating evidence related to the August 2017 shooting that killed McNew inside his quaint 2,700-square-foot home at 1050 River Road in the Washington Crossing section of Upper Makefield.
Deputy District Attorney Kristin McElroy told jurors that although there was cell phone data that puts Morrissey near the scene, threatening text messages, statements from the defendant, and other evidence proves Morrissey commited the killing.
"You don't have to like the fact that there is a big age difference, and you don't have to approve of the relationship they had," McElroy told jurors, as she stated McNew didn't deserve to be killed by a single shot between the eyes.
"That is intentional," she said. "That is murder."
Prosecutors will make the case that the murder happened on August 6 and Morrissey returned to the home overnight to stage the scene to look like a botched robbery.
S. Philip Steinberg, Morrissey's defense attorney, told jurors to look at all the facts in the case and pushed that his client, a former motorcycle mechanic who worked at a business in Middletown, fought back against McNew in self-defense after an ongoing disagreement.
Using texts between the couple, Steinberg told jurors that McNew was a passionate man who used money to keep Morrissey under his spell and control. He asked the jury not to judge that McNew met Morrissey while she was working as a heroin-addicted exotic dancer, adding McNew charmed the mother of an elementary school-aged boy at a time when she needed it most.
Steinberg was not shy about stating Morrissey was in the riverfront home, but focused on her motivation.
"What in the world is that innocent woman doing here?" he questioned, looking at his client from across the courtroom.
McNew was described during Steinberg's opening statement as a "man of means" who arranged finances so Morrissey had to keep coming back to him even when she was seeing other men, often chasing the next high. The attorney claimed that McNew would even buy heroin from dealers to provide it to Morrissey while telling her she needed to stop.
As the case continues, there is an expected focus on the testimony of Morrissey's mother, fellow female prisoners who will speak of comments Morrissey made while in custody on a probation violation after the date of the murder, and text messages that show Morrissey threatening to hurt McNew.
"Get the gun ready cause I'm coming, I already told you that I'll be there tonight,… guess your just gonna have to shoot me," one message from Morrissey to McNew said.
"I'll gut you like I'm field dressing a f**king deer," another stated.
Prosecutors acknowledged the female prisoners were not angels, but asked the jury to listen to their testimony. Steinberg countered by questioning the credibility of the women.
In court, it was revealed that Morrissey had her beauty supplies, dog, and son's room in McNew's home. It was also stated that the 34-year-old high school dropout had talked to other men online and had a relationship with a man with possible ties to a gang.
The .380 caliber handgun that fired the bullet into McNew's head has not been recovered and bullets in the 64-year-old man's house appear to match the one used in the killing, prosecutors said.
U.S. Marines Master Sgt. Patrick McNew testified Thursday that his father had planned to see the home he and his wife purchased in the western part of the state, but that never happened because his dad was murdered.
McNew's son said although his father was at his wedding in summer 2017, he did not attend his sister's wedding that summer due to disagreements over Morrissey being his father's date. He also stated that Morrissey appeared "disconnected" last time he saw her and stated it could have been due to drugs.
Mary Ann Shockley, a sales manager who worked at the same company as McNew, and her adult daughter Amber said in court that they found McNew deceased in his home after checking on him. Mary Ann Shockley said her company dispatched her after bosses could not get in touch with McNew between August 6 and August 8.
"He's dead. He has, like, blood all over his mouth," Amber Shockley was heard in a 9-1-1 recording telling a dispatcher after finding the body. "He's not breathing at all."
Mary Ann Shockley testified that McNew was "wonderful to work with" and always threw a great Christmas party for friends and co-workers.
When asked, Mary Ann Shockley said she had not met Morrissey and McNew did not talk of her much during their work interactions.
St. Mary Medical Center emergency unit medics Zach Williams and Christian Schramm testified that they arrived after the Shockleys' 9-1-1 call and found McNew sitting upright in his chair with dried blood on his face. They determined he was deceased and let police begin their investigation.
The medics and Shockleys all testified McNew's pockets were turned inside out of his pants, but nothing else in the home appeared disturbed.
During questioning and cross examination, there were numerous questions and comments about Morrissey's dog Cooper.
Steinberg made mention in his opening statement that detectives tricked his client into believing her dog would be put down as a way to speak to her. Eventually, she was locked up on a probation violation at the behest of detectives, he claimed.