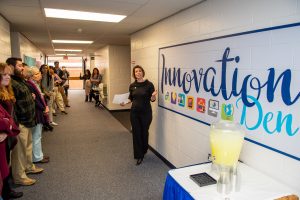 Bucks County Community College has rebranded their Business Studies Department.
The community college with campuses in Bristol Township, Newtown Township, and Perkasie recently renamed from the Business Studies Department to the Business + Innovation Department.
"The name change, which came after a survey of faculty who provided valuable feedback, better reflects today's business environment and opens new possibilities for academic programs," said Dr. Stephanie Shanblatt, community college president. "It communicates that we are a forward-looking institution, and also represents our cross-curricular programs of study, non-credit offerings, and events offered across three campuses and online."
In addition to the name change, the community college opened a innovation suite in Grupp Hall at the Newtown Township campus. The space has been converted into a new area where students can brainstorm and share ideas. The idea is similar to the Entrepreneur Lab that is designed for students to study, work, share ideas, or relax at the community college's Bristol Township campus.
"The Innovation Den and the newly named Business + Innovation Department help us move forward to better meet the needs of students amid the demands of our ever-changing economic climate," Dean Tracy Timby said.