The following was provided courtesy of the Newtown Township Police Department.
Newtown Township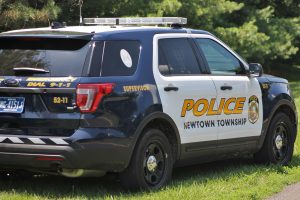 February 23
Drug Paraphernalia
While on patrol in the area of Upper Silver Lake Road around 11:45 p.m., an officer observed a suspicious vehicle in one of the township parks. The officer initiated a traffic stop on the vehicle at Lower Dolington Road and Newtown-Yardley Road and made contact with the driver. As a result of the stop, drug paraphernalia was discovered and seized, and the driver was issued a citation for disorderly conduct.
February 26
Fraud
At noon, a Newtown Township resident contacted police to report identity theft. The victim explained that she was notified by her phone provider and her bank that she had successfully changed the passwords on her accounts. Since she had not initiated the password changes, she contacted both her phone provider and her bank immediately. It was soon determined that person(s) unknown to her had successfully changed her passwords, accessed her files and account information, and opened new accounts. The bank was able to stop the new accounts, and the victim was referred to the Transunion Credit Report Bureau to flag her identity. Police advised the victim to change the passwords to all of her accounts including email and suggested obtaining a personal information monitoring service.
Drone Complaint
Shortly before 3 p.m., a Newtown Township resident responded to headquarters to report suspicious drone aircraft operating in the area of her home on Elfreths Court. According to the complainant, two or three drones were being operated at roof top and window level during the early evenings after dark. Other neighbors experienced similar activity within the last week. The complainant was advised to contact police when the drones were present and explained that she could document the presence by photographing them.
February 27
Vandalism
At approximately 8:45 p.m., police were dispatched to a dispute not in progress at a Newtown Township residence. Upon arrival, police spoke to the victim who explained that her ex-husband had keyed her vehicle and was no longer on scene. Investigation ongoing.
February 28
Fraud
A Newtown Township resident contacted police just after 9:30 a.m. to report fraud. The complainant explained that someone had attempted to open two fraudulent accounts in her name. The first account was for Office Depot and the second was for Walmart. Both accounts were declined, and the complainant did not suffer a loss.