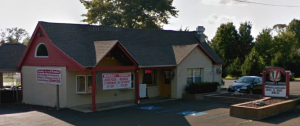 A well-liked Wrightstown Italian restaurant closed its doors this week.
Adriana's Little Italy on Durham Road between Penns Park and Brownsburg roads announced Thursday that they were closing up.
The eatery's proprietors Amalio and Adriana posted the following message to their Facebook page:
It is with tears in our eyes as we write to our loyal customers, familiar faces & the community; whom we have proudly served for the past 8 years. We have made this decision as we feel it was best for our family. We hope you welcome & enjoy the vision & direction of the new restaurant in the months to come. We are excited & anxious for what the future has in store for us & once we know that next step we will let you know! It is because of you that we have had a successful 8 years in business & we look forward to serving you again on our next adventure! THANK YOU!
Dozens of customers mourned the loss of Adriana's Little Italy on social media. 
"We have enjoyed your delicious food and warm hospitality going back to your place in Warminster in the early 90s. Four generations have been lucky enough to dine with you," one customer wrote.
Newtown Patch, which first broke the news of the closure, reported that a sign has gone up outside the now-closed restaurant that states Vince's Pizzeria and Taproom will take the location.
The website for Vince's Pizzeria and Taproom teases a beer and wine wall filled with dispensers. It also shows a menu featuring pizza and salad, noting the recipe that will be used dates back to 1946.