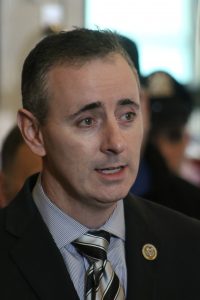 During the 35-day partial shutdown of the federal government that lasted from late 2018 into the new year, Republican Congressman Brian Fitzpatrick said he was not taking his pay for the time period.
This week, the congressman sent a $10,008.68 check to the U.S. Treasury after House of Representatives' finance staff calculated the amount Fitzpatrick earned over the course of the shutdown.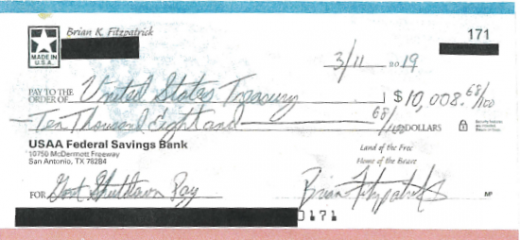 According to federal records, all members of the House of Representatives earn $174,000 a year.
When the shutdown started following Republican President Donald Trump's December veto of a bipartisan budget deal over funding for his proposed border wall, Fitzpatrick announced he would not accept pay during the shutdown, noting many government workers would not be paid on schedule during that time. He called the shutdown "harmful" and has since talked about the impact it had on the economy.
"All elected officials need to put their money where their mouth is — literally. I'm calling on all of my colleagues to do the same. If over 800,000 federal employees and their families were forced to live without their paychecks due to no fault of their own, then no member of Congress should accept a dime of pay for that period. To all of the affected employees out there, know that I stand with you and will walk the walk as long as I'm serving in Congress," Fitzpatrick said in a statement.
The shutdown was the third in 2018. There have been 19 previous shutdowns and only one in the 21 Century before 2018.
Fitzpatrick previously wrote the No Budget, No Pay constitutional amendment. The resolution would prevent Congress from getting paid unless a budget is passed.