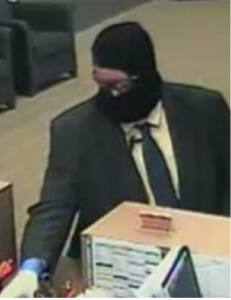 A man who went on a bank robbery binge was convicted by a federal jury last Friday.
At the trial, the jury found Richard Boyle, 59, of Plumstead Township, guilty of 11 separate bank robberies, 10 counts of brandishing, using, and carrying a firearm during a crime of violence, and 10 counts of money laundering. He is slated to be sentenced on July 15 at the federal courthouse in Philadelphia.
The bank robbery spree between 2012 and 2016 in the region totaled $495,686 in stolen cash.
As Boyle hit more and more banks, he became known as the "Straw Hat Bandit." He often held bank employees at gunpoint while wearing disguises.
On September 28, 2012, Boyle alleged walked into the Wrightstown branch of what was then First Federal of Bucks County at 803 Park Avenue and robbed the bank. Several months later on January 1, 2013, he walked into the Well Fargo Bank at 706 Stony Hill Road in Lower Makefield and robbed the branch.
Boyle used his aerial photography business, Sky Eye View, to launder stolen funds, court documents stated.
Federal prosecutors said Boyle worked to conceal his connection to the robberies by spreading bleach on the floor of the banks to mask his DNA. He also would call police and security with false reports to slow law enforcement response times. Boyle reportedly phoned in a fake bomb threat at a country club, warned of an attack at a mall, and raised worry over a possible man with a gun at Temple University.
"The defendant's conduct in this case was outrageous," said U.S. Attorney William McSwain. "From robbing banks and holding innocent bank employees at gunpoint to calling in hoax threats to divert law enforcement resources and slow response time, Boyle had no regard for the safety of anyone in the community. He only cared about lining his own pockets with stolen cash."
NewtownPANow.com had previously confirmed that that Boyle, a Federal Aviation Administration licensed drone drone pilot, was convicted of taking more than $100,000 from eight banks between 2007 and 2008. That bank robbery spree took place over Bucks, Montgomery, Lehigh and Northampton counties.
"Eight and a half years ago, Richard Boyle stood in a different courtroom, having confessed to a string of bank robberies," said FBI Philadelphia Field Office Special Agent in Charge Michael Harpster. "He said he wished he could've made better choices. But after serving out his prison sentence, he was soon robbing banks again–this time, in disguises and at gunpoint. Given the chance to do and be better, he instead chose to escalate his crimes. In doing so, he terrorized the employees of nearly a dozen banks and put people's lives at risk. The FBI appreciates that this jury, having weighed the considerable evidence against Mr. Boyle, chose to find him guilty as charged."
Boyle was arrested in April 2017 after a years-long investigation.