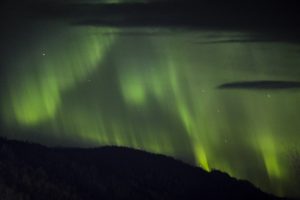 There's a chance that Bucks Countians could see the the Northern Lights this weekend.
The National Oceanic and Atmospheric Administration's Space Weather Prediction Center is forecasting that the Northern Lights – more formally known as the aurora borealis – could be spotted near the horizon from Saturday night into early Sunday morning. It should be noted that there is no guarantee the Northern Lights will be visible in the area, but Bucks County sits within the zone of possible visibility.
The natural light show is a rare sight for Bucks County and follows a recent geomagnetic storm that shot plasma and its magnetic field toward Earth, causing a colorful display once it hits Earth's atmosphere.
To have any chance of seeing the Northern Lights from Bucks County, the best view will be an area with a clear view of the northern horizon and little light pollution.
Forcasters are calling for clear skies over Bucks County for Saturday night and early Sunday morning.