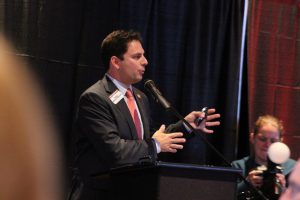 A Langhorne man will become the next leader of the county visitor and tourism marketing agency.
Current Vice President Paul Bencivengo will take the reins of Bensalem-based Visit Bucks County on July 1. He will replace current President Jerry Lepping, who will retire from his day-to-day role on June 30.
Lepping jumped from 10 years as the Visit Bucks County Board of Directors president to the role of leading the organization in 2007. He oversaw Visit Bucks County through the economic downturn and into the current boom in the county tourism business.
"Jerry has been a Bucks County resident for more than 40 years and served the tourism and hospitality industry for more than two decades," Visit Bucks County Board Chairperson Bill Haas said in a statement. "His commitment and dedication to Bucks County and the tourism office are unmatched. The Board of Directors are grateful for his years of service to the entire Bucks County hospitality industry."
"On behalf of the Bucks County Commissioners, I would like to thank Jerry for his leadership and significant contributions to Bucks County. Tourism is an invaluable part of our economy generating nearly $1 billion in economic impact throughout all of Bucks County. The hospitality industry makes our County a great place to live, work and visit," said Bucks County Commissioner Chair Robert Loughery. "Jerry has assembled one of the best teams in the industry. Together they have successfully driven local impact through job growth and tourism development by effectively marketing the area as a must-see destination."
Although he will retire come the end of June, Lepping will serve as an advisor for Visit Bucks County through November.
Lepping played a major role as the Bucks County Visitor Center was constructed in Bensalem and oversaw the implementation of the Visit Bucks County Grant Program.
Over his career, Lepping, a U.S. Marine Corps veteran and Northeast Philadelphia native, managed an ice rink in Warminster and owned a number of hospitality-related businesses in Bucks County. He also served as a referee for more than 200 college football games and served as the Chairman of the Chapter Presidents of the American Society of Travel Agents' International Board of Directors along with the boards for the Friends of Washington Crossing Historic Park and TMA Bucks.
During his career and through his work with the American Society of Travel Agents International, Lepping and his wife, Marie, have been able to travel the world.
"This role has allowed me to engage with some of the most impressive business leaders in the region, and I am grateful to have had the opportunity to support them," Lepping said. "I've witnessed tremendous growth in Bucks County over these past 12 years and I'm confident that under the leadership of Paul Bencivengo, this organization is positioned for continued success in the future."
Bencivengo, his wife, and family live in Langhorne, and he has worked with Visit Bucks County since 2009.
Correction: A previous version of this story mistakenly stated Bencivengo lives in Newtown.