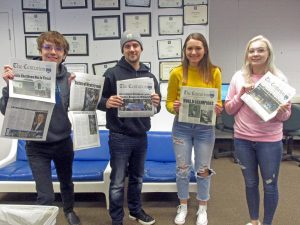 Bucks County Community College's student-run newspaper took home 15 awards recently.
The Centurion won 15 Student Keystone Press Awards from the Pennsylvania NewsMedia Association Foundation with eight of them being first-place awards at the America East Media Business and Technology Conference in Hershey last week. The haul marks the most ever in one year for the publication overseen by Professor Tony Rogers, who previously worked for the Associated Press, New York Daily News, and The Auckland (New Zealand) Star.
The student coverage of their campus and the community led to first place prizes for General News, Ongoing News Coverage, Public Service/Enterprise Package, Feature Story, Personality Profile, Feature Photo, Website, and Video Story. The The Centurion also won honors for packages of stories about the #MeToo movement, the Parkland school shooting and resulting protests, and the 2018 midterm elections.
"The credit goes to the hard work and dedication of our journalism students," Rogers said. "Year after year they push themselves to do the very best work they can, and I think that is reflected in the number of awards they've won."
Since the newspaper began entering the Student Keystone Press Awards in 2010, it has brought home 108 awards in the two-year college division. It is matched against other similar publications across the state.
Rogers said The Centurion's has a harder news emphasis than many college newspapers.
General News, First Place: "Pastor Aden Pays Yet Another Visit to the Newtown Campus" by Francis Klingenberg
General News, Honorable Mention: "Bucks Student is Arrested for Making Threat" by Sarah Siock
Ongoing News Coverage, First Place: "Parkland Shooting/March For Lives" by
Hal Conte, Connor Donaghy, Matthew Aquino, and Shannon Harrar
Ongoing News Coverage, Second Place: "The 2018 Midterms" by Sarah Siock, John Fey, Keri Marable, and Jennifer Abele
Public Service/Enterprise Package, First Place: "The #MeToo Movement" by Gabby Houck, Jillian Broskey, Jocelyn Pappas, and Tyler Creighton
Feature Story, First Place: "Philly Inquirer Columnist Mike Sielski On Twitter, Super Bowl & Fake News In New Age of Sports Journalism" by Julia Pacifico
Feature Story, Honorable Mention: "The Opioid Epidemic: It Starts With Us" by
Gabby Houck
Personality Profile, First Place: "A Sit Down with Bucks Instructor and Congressional Candidate Steve Bacher" by Gabby Houck
Feature Photo, First Place: "Three Cooks, 70 Reserved Tables, 100 Degree Kitchens: How Angela Shellenberger Takes the Heat, Every Day" by Joe Roatche
News Photo, Second Place: "Pastor Aden Pays Yet Another Visit to the Newtown Campus" by Francis Klingenberg
Layout and Design, Honorable Mention: Gabby Houck, Shannon Harrar, Centurion Staff
Website, First Place: Centurion Staff
Video Story, First Place: "Animal Adoption Event" by Julia Pacifico
Video Story, Second Place: "Doylestown Hosts Women's March" by Hal Conte
Video Story, Honorable Mention: "Bucks Men's Basketball" by Macy Moors