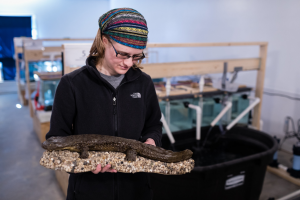 Pennsylvania will soon have a state amphibian.
The Pennsylvania House of Representatives voted 191-6 on Tuesday to approve the eastern hellbender – officially known as cryptobranchus alleganiensis alleganiensis – as the state's official amphibian. The governor intends to sign the bill into law.
Newtown-area state representatives Perry Warren and Wendi Thomas voted in favor on the bill. Local state senators Tommy Tomlinson and Steve Santarsiero voted for the bill earlier this year.
The eastern hellbender is found in waterways across the county and is the third largest salamander in the world, growing to as long as 29 inches. It is considered an "indicator species" due to its ability to sense poor water quality and pollution.
While the eastern hellbender is not federally protected, they do have state protections in Alabama, Maryland, Ohio, Illinois, and Indiana.
The eastern hellbender is mainly found in the western portion of the state. The Pennsylvania Fish and Boat Commission said the harmless amphibian does not live in the Delaware River basin.
"Although something less than attractive in appearance—some would say downright ugly—Indians once used the hellbender for food. Even though it is no longer a food source for man, the hellbender nonetheless continues to fill an important niche in the aquatic ecosystem," according to Pennsylvania Fish and Boat Commission literature.
Due to their appearance, the eastern hellbender has been called "mud devil", "devil dog", "ground puppy", "snot otter", "lasagna lizard", and "Allegheny alligator." It has also been called "a creature from hell where it's bent of returning," according to the U.S. Fish and Wildlife Service.
The eastern hellbender population is threatened by a changing climate, pollution, and excess sediment.
The amphibians mainly live in silt-free waterways and hunt crayfish, other salamanders, and insects at night.