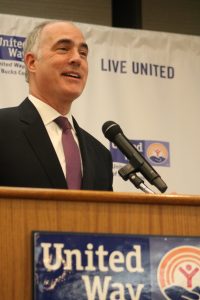 U.S. Sen. Bob Casey brought a message to the United Way of Bucks County's annual breakfast last week – early education is important.
The Democratic senator told the audience that he supports efforts to grow early education opportunities for every child.
"As a nation, we're behind," he said.
"I don't think we've done enough to compete in the world," Casey stated of early education funding.
The senator said that "every child is born with a light" and the country should prioritize safety, health, and education, including for young learners.
While speaking, Casey said that early education is "rocket fuel" for a skilled workforce prepared for the modern economy.
Casey said he supports legislation to provide a fair wage for early childhood education workers, efforts to bring down the cost of child care, introduce a broad initiative across the country to support early childhood education, and look for ways to help middle class families.
The senator also said he wants to raise public awareness of child care tax credits that families can use to send their children to early education programs.
"This, I think, is a mission worthy of a great country," Casey said.
Marissa Christie, the president and CEO of the United Way of Bucks County, said the organization's financial support for early education comes from state grants, business donations, and public support.
The United Way of Bucks County, which is based in Falls Township, has focused on pre-kindergarten education and childcare scholarships for low- and moderate-income families. The focus is in addition to numerous other programs, including working to end hunger and improve outcomes in the community.
The focus of the breakfast was "game changers" who support the United Way of Bucks County and their programs. The meet the motif, the event was sports-themed and Cracker Jacks were available at all the tables during the breakfast at the Sheraton Bucks County on Oxford Valley Road in Falls Township.
"To me, a game changer is a person who makes options and opportunities available," Christie said.
Kelton Service Award Winning – Brian Papsun
Paul Sauerbry Award Winner – Francis J. Sullivan
Founder's Award Winner – David Gondak
Campaign Volunteer of the Year Award – Chris Stanley of the Neshaminy School District