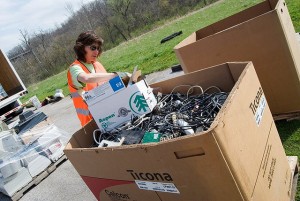 Local residents can drop off their old electronics to be recycled this Saturday.
The Environmental Advisory Councils of Lower Makefield, Yardley, and Upper Makefield are sponsoring an electronics recycling event at William Penn Middle School 1524 Derbyshire Road in Lower Makefield.
Electronic devices except refrigerators and stoves will be accepted for recycling. Batteries, CFL, LED, or fluorescent will also not be accepted.
A $30 charge will be levied for CRT TV's and old computer monitors. LCD, LED, and computer monitors and TVs will be taken at no charge.
The event runs from 9 a.m. to noon.