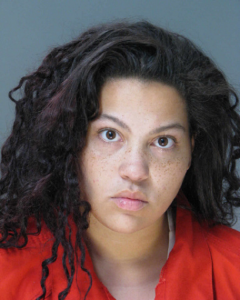 The ringleader of methamphetamine ring that the Bucks County District Attorney's Office said "exploited vulnerable drug-addicted women" has been sentenced to state prison.
Shayla Hadley, 24, of Quakertown, pleaded guilty last Thursday to 14 felony charges related to the distribution of meth in the Bucks County Correctional Facility in Doylestown Township. She was sentenced to 10 to 20 years in state prison and one to two years for a separate possession with intent to deliver charge resulting from a traffic stop by Pennridge Regional Police in West Rockhill Township.
Authorities said that Hadley, who described herself as a drug "kingpin," smuggled a large quantity of meth into the prison in January 2018 through a pill bottle inside her vagina. She sold the drugs to inmates in exchange for money deposited into her commissary account, netting $736 in four days.
Hadley signed up 11 other female inmates housed with her in "the bubble," a section of the facility to handle women with drug addictions, authorities said.
Hadley gave fellow female inmates free drugs as a form of payment and manipulation. She also is said to have provided drugs to women who were detoxing.
In phone calls, Hadley called herself as "El Chapo" and said "no one can touch me," prosecutors said.
"This case is all about meth, money and malice," Assistant District Attorney Ashley Towhey said. "Shayla Hadley did not care one bit about any of these defendants she was exploiting. All she cared about was herself, her money and her commissary."
Before Bucks County Judge Rea Boylan, Hadley said she showed "blatant carelessness and disregard for the law." She made note of her own addiction battle.
Towhey said that Hadley revealed her true self when an inmate who was part of the drug ring needed medical attention after an adverse reaction to meth. The self-described drug kingpin told other inmates to leave the woman alone.
"You, in a predatory way, took advantage of the circumstances of the women who were with you," the judge said.
Bree Allison Taylor, 42, of Bedminster, and Aleah Marie Moore, 42, of Bensalem, were also prosecuted following the investigation by the Bucks County Correctional Facility investigator and Bucks County Detectives.
Taylor, who was considered Hadley's second-in-command, entered a negotiated guilty plea in early April and received a sentence of four and a half to nine years in state prison. Moore was sentenced to two to five years in state prison after entering an open guilty plea.
Other defendants who entered open guilty pleas to lesser charges were sentenced:
Alexis Hall, 25; three to 23 months in county prison
Kristen Horn, 31; 36 months of probation, 50 hours of community service
Megan Hartwell, 34; 24 months of probation
Dominique Menichella, 25; 12 months of probation
Nicole Auslander, 37; 36 months of probation
Barbara Bailey-Dawson, 47; 12 months of probation
Rachel Engelmann, 25; 36 months of probation
Cases for two additional defendants – Nicole Tregea, 40, and Alicyn Faller, 24 – remain open.