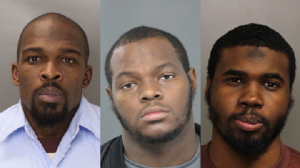 Sentences were handed down this week for a 2017 invasion-style robbery of a Newtown Township home. 
Three Philadelphia men – Sadeen Jones, 42; Brandon Eugene Davis, 25; and Raymond Anthony Daniels, 26 – perpetrated a home invasion-style robbery in the early morning hours of Monday, August 21, 2017 in the 20 block of Wellington Road while wearing masks and brandishing guns. The trio tied up the home's five residents, demanding cash and other valuables, according to authorities.
Jones and Davis were found guilty by a jury in January, while Daniels pleaded guilty separately.
Jones, who has a prior murder conviction in Philadelphia, was sentenced this week to 70 to 140 years in state prison for his role in the robbery.
Davis, who previously committed a similar robbery, was sentenced to 40 to 80 years in state prison, and Daniels, who doesn't have a violent criminal history, was sentenced to 30 to 60 years behind bars. 
During the robbery, the three went floor by floor and tied up the victims, eventually pointing a gun at the head of a 12-year-old girl. One of the men demanded jewelry, cash and the location of the family safe while threatening to kill the girl. 
"If you had any humanity you would understand what that would do to a 12-year-old," Bucks County Judge Diane Gibbons said Thursday during the sentencing hearing. "There is no more dangerous situation than the situation you created in the home that morning."
More than $300,000 worth of cash and other items were stolen from the home.
Using cell phone pings and text message records, police were able to identify the three men.
"These defendants didn't just steal an enormous amount of cash, an enormous amount of jewelry, they stole a sense of security and safety for the entire family," Deputy District Attorney Antonetta Stancu said, noting the lasting trauma the victims suffered.
All three men will have to pay back restitution.