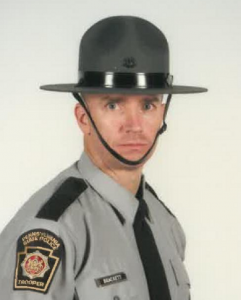 A Pennsylvania State Police trooper who died while on duty in Lower Bucks County will be laid to rest on Wednesday.
A funeral mass for Trooper Donald C. Brackett, 58, of Bensalem, will take place at 11 a.m. at St. Andrew Catholic Church on Swamp Road in Newtown Township with private interment afterward at Washington Crossing National Cemetery in Upper Makefield.
Newtown Township police warned that traffic delays should be expected along the Newtown Bypass between 10 a.m. and 2 p.m. as the funeral and interment services are conducted. A heavy police presence is to be expected.
Brackett died earlier this month after a medical emergency while he was on duty along the Pennsylvania Turnpike near the interchange in Bensalem. He was found outside of his patrol vehicle and pronounced dead at the hospital.
Brackett, who was based at the King of Prussia station in Montgomery County, began working as a trooper in October 2001. He was a U.S. Marine Corps veteran and was previously based at the Trevose, Dublin, and Media barracks.
In an obituary, Brackett was described as someone who like playing sports, partaking in pranks, and joined the state police after his career in the Marines. He had made plans to travel cross-country with his motorcycle to visit his father in Dallas.
Brackett is survived by his wife and two daughters.