Bucks County Community College graduated 1,102 students late last month.
The class that earned degrees and certificates was the largest graduating class in the community college's 55-year history. The previous record was 1,054 in 1976-77 academic year.
Dr. Stephanie Shanblatt, the community college president, said that the high number of graduates is a testament to students' hard work and perseverance, as well as the value placed on their education.
Sylvia Salas, a first-generation American from Levittown, addressed her classmates in recognition of her outstanding achievements.
The commencement speaker was Brian Delate, an actor, director, playwright, and Vietnam War veteran. He has had roles in "Law and Order," "Rescue Me" "Guiding Light" "Truman Show," and "The Comeback." The Bucks County native was presented a doctor of public service degree by Shanblatt and Board of Trustees Chair Elizabeth Fineberg.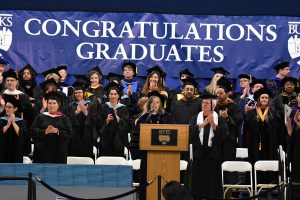 In addition, the Bucks County Community College Alumni Association presented its Alumni Achievement Awards:
President's Distinguished Service Award – Lynne Kelleher, Class of 1981, Realtor
Community Service Award – Erica J. Hellerstein, Class of 2014, occupational therapist, community healthcare outreach volunteer
Professional Achievement Award – Jo Ciavaglia, Class of 1989, award-winning investigative reporter
Centurion Award – Donna Wilkoski, Class of 1980, Director, Financial Aid