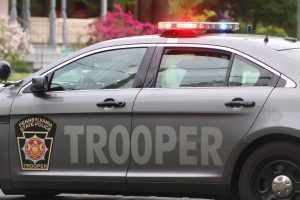 Lawmakers in Harrisburg want towns who get Pennsylvania State Police protection to pay up.
The idea isn't knew, but two similar bills in the Pennsylvania House and Senate would require municipalities that rely on round-the-clock state police services to chip in for the cost of coverage by paying a fee per resident.
In Lower Bucks County, all the municipalities either have their own police departments or have agreements with surrounding communities. Langhorne, Langhorne Manor, and Hulmeville rely on part-time state police protection when borough officers are not working. Troopers based out of Trevose patrol I-95 and often assist local departments, while troopers out of King of Prussia, Montgomery County, handle calls on the Pennsylvania Turnpike in Lower Bucks County.
While no lower end municipalities would be impacted by the fee, Bridgeton Township, Durham Township, Haycock Township, Milford Township, Nockamixon Township, Richlandtown Borough, Riegelsville Borough, and Trumbauersville Borough in Upper Bucks County rely solely on state police. They don't pay a fee toward the service and save the large cost of running their own municipal police departments.
Democrat State Rep. Mike Sturla, who serves in Lancaster County, has introduced a bill that is similar to Democratic Gov. Tom Wolf's budget proposal that would impose a fee of $8 per person for municipalities with less than 2,000 residents and $166 per person for towns that have a population larger than 20,000 residents if they use troopers full time.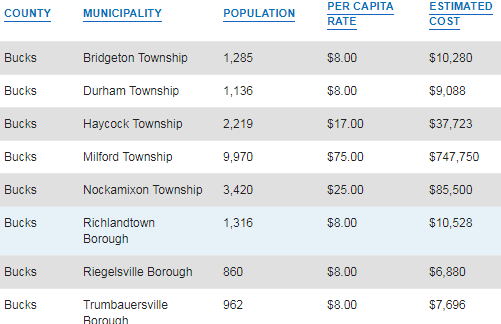 No fee would be imposed for municipalities that only use troopers on a part-time basis.
State officials said during a press conference in Harrisburg on Tuesday that it costs about $234 per state resident for state police coverage.
State police do not have eligibility requirements or population caps for municipalities to receive round-the-clock protection from troopers.
The governor's office has said the fee would bring in $104 million to help fund the state police, which patrols more than half the land in in the state, but less than half the population. The agency has a roughly $1 billion budget that covers outposts around the 46,000-square-mile state.
If the state police fee is approved, any increases that happen would be based on the Consumer Price Index for All Urban Consumers for the Philadelphia-Camden-Wilmington area.
The bills by Sturla and State Sen. Jay Costa would, in part, make up for funds the state police will lose as the Motor License Fund drawdown is reduced by 4 percent each year until it is capped in 2027.
"This fee is about fairness," Sturla said. "While 80 percent of Pennsylvanians pay for their local police services, some with average incomes barely above poverty, 20 percent rely solely on the PSP. The PSP is using Motor License Fund dollars to help fund those patrols and everyone is missing out on road and bridge repair projects that would improve public safety for all. Charging a reasonable fee for the exemplary service the PSP provides will give them the resources needed to provide those services while preserving public safety."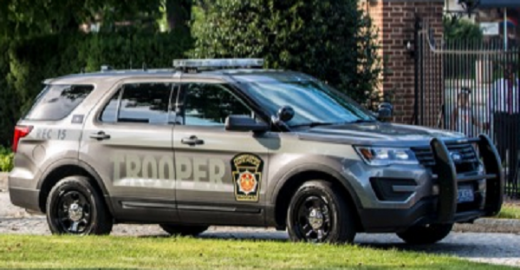 "When local governments disbanded their police forces, our state troopers stepped in to do the work," Costa said. "They upheld their oath to protect all of our citizens. The problem in this funding stream is not with our brave men and women who are officers. But they are doing a new job now, and we need a fair, guaranteed revenue for their expanded scope."
Lawmakers on Tuesday pointed to Hempfield Township outside of Pittsburgh. The 43,000-resident community with a median family income of more than $80,000 does not have a township police force like most communities of its size. The township instead uses services offered at no additional cost by the state police, an agency dealing with a high retirement rate and massive patrol area.
"We all want safe communities," the governor said. "That means adequate police protection and structurally sound roads and bridges. But right now, some municipalities are not paying their fair share for police protection, and to compensate for that deficit, money is being taken from the Motor License Fund that would otherwise go to our roads and bridges."
The Pennsylvania State Association of Township Supervisors is opposed to the plan.
"All Pennsylvania residents pay state income tax to access State Police services. No one should be forced to pay twice. In fact, instead of looking for ways to collect more money, let's look at some ways to control costs. Period," said David Sanko, the executive director of the organization.
Although Wolf has called for support from lawmakers, the proposal has previously not gained significant momentum.