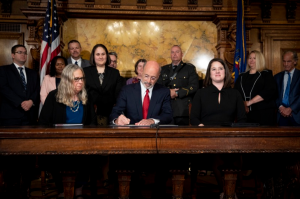 Pennsylvania's opioid disaster declaration has been renewed.
Gov. Tom Wolf signed the renewal last Friday, the sixth time since it was first put into place in January 2018.
The declaration will allow state agencies to keep up efforts for additional treatment options, waive birth certificate fees for those seeking treatment, allow or expanded naloxone programs, and continue the opioid help hotline. The multi-agency Opioid Operational Command Center continues to operate.
"I first signed the disaster declaration so the commonwealth would have every tool at its disposal to battle this health crisis and I have witnessed this collaborative effort grow and succeed," said Wolf, a Democrat. "We continue to make improvements upon our strategy and find new techniques to reach people affected by the epidemic."
Joined by Pennsylvania Insurance Commissioner Jessica Altman, Secretary of Health Dr. Rachel Levine, Secretary of Drug and Alcohol Programs Jennifer Smith, state police, legislators, and other officials, Wolf's administration announced initiatives t0 offer guidance on naloxone and how insurance should handle it and the release of the Opioid Data Dashboard 2.0 to offer new data on the crisis' impact to on communities, the economy, and criminal justice.
Smith, who leads the Pennsylvania Department of Drug and Alcohol Programs, explained to reporters how the state has spent $108 million in federal funding to fight the opioid epidemic.
She explained that they money has been used to develop initiatives expand access to medication-assisted treatment, provide counties with funding to help the uninsured and underinsured residents access treatment, and to "find the barriers that interfere with living a healthy life in sustained recovery, such as housing and expanding access to medication-assisted treatment for inmates in the state's prisons."
Some of the funds have also been used to help fill a shortage of clinicians specializing in opioid treatment in rural areas through a loan repayment program.
"The commonwealth enters the sixth disaster declaration renewal with preliminary data from the Centers for Disease Control continuing to indicate a decrease in opioid overdose deaths in the state," Wolf said. "And while that's good news, we know we have more work to do and so will continue to identify problem areas and find new solutions for addressing opioid use disorder. And we will not let up until we have won the battle against opioids in our commonwealth."