By Kim Jarrett | The Center Square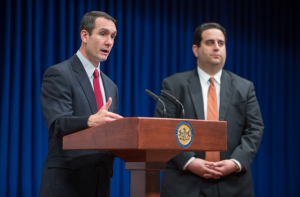 Pennsylvanians are getting older, but the number of healthcare workers is declining, a problem the state needs to address now rather than later, according to state officials.
Auditor General Eugene DePasquale in a news conference this week announced the release of his report, "Who Will Care for Mom and Dad?" He said that having workers to care for the state's aging population is the biggest challenge, and that by 2040, nearly 25 percent of Pennsylvanians will be 65 or older. By 2026 the state will have a shortage of 37,000 direct care workers, and by 2030 the state will have a registered nurse shortage of 4,000.
"If we don't act now, we will leave older adults without critical care, burden family members at great social and economic costs, crush household finances at every income level, and threaten the commonwealth's long-term economic viability," he said.
A plan must be put in place that involves the public and private sectors, labor organizations and Pennsylvania's State System of Higher Education, he said.
Part of the problem is money. The General Assembly approved a 2 percent increase in Medicaid this year, but it was only a small step toward increasing wages, DePasquale said.
"Without family sustaining wages and benefits, the elder care workforce will never grow to the size we need to care for aging Pennsylvanians," DePasquale said. "The number of health care workers is clearly not keeping pace with current demand and is certainly not keeping pace with future demand that is going to explode rapidly."
The staffing shortage is directly tied to Medicaid funding, according to the president and CEO of a state organization representing companies that offer services to seniors.
"Not only are we losing some of our best employees, but gross underfunding makes it difficult to compete for new hires," said Adam Marles of LeadingAge PA. "Last year alone, providers lost more than $630 million serving Pennsylvania's poorest older adults because Pennsylvania will not increase Medicaid funding."
The report also addressed the vetting process for nursing home owners.
"We found at least one case where lax vetting processes resulted in granting a license to a financially unstable operator who had a poor-quality track record in another jurisdiction," DePasquale said.
Better data is needed to identify which of the state's nursing homes are improving, the report said.
The Department of Health is currently preparing an update of nursing home regulations that will be open for public comment by the end of the year, said Rachel Levine, secretary of Health. The regulations have not been updated since 1999.
The report is a follow up to a 2016 audit of oversight of nursing homes and involved interviews with more than 50 experts and more than 20 nursing home residents, families and staff members.