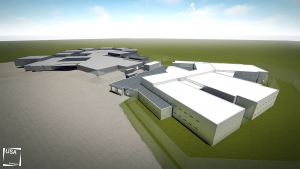 Bucks County is spending $31 million to construct a Women's Correctional Facility.
Earlier this week, the Bucks County Commissioners unanimously approved eight contracts with Clipper Pipe and Service Inc., CMG of Easton Inc., Guy M. Cooper Inc., Honeywell Building Solutions, Jay R. Reynolds Inc., and Wescott Electric Company. The contracts total just over $31 million, with contractor CMG of Easton receiving the largest portion, $19.3 million, of the project.
The new 306-bed facility off Route 611 in Doylestown Township will be separate from the current Bucks County Correctional Facility but will constructed adjacent to it. The two buildings will share treatment services, food services, and laundry facilities.
The new 65,000-square-foot building has been in consideration for years. The need came along as the population of female prisoners has grown in recent years. The female population is split between the Correctional Facility, nearby 60-year-old Community Corrections Center, and out-of-county prisons, Commissioners' Chairperson Robert Loughery said.
In the current Bucks County Correctional Facility, some common spaces have been used for temporary housing for inmates. Once the new facility is completed that space will be freed up for prison programs, Loughery stated.
With the construction of the new building, the county aims to end out-of-county boarding of female inmates, Loughery said.
In a statement, Bucks County officials said they have spent more than $10.7 million on housing inmates out of county due to overcrowding since 2015.
Construction on the new center would start as soon as September.
Also during the meeting, the Commissioners approved the sale of a county-owned office building on Louis Drive just off Street Road in Warminster. The building will be sold to DK Warminster Properties LLC for a little more than $1 million. It is being offloaded as part of Bucks County's effort to consolidate their real estate.