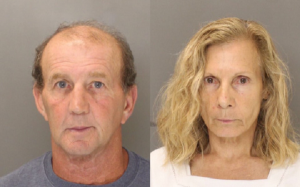 A Bucks County Office of Jury Selection Commission staffer who often greeted those serving their civic duty at the Justice Center in Doylestown has been charged along with her boyfriend in an alleged extortion plot.
Lynn Robin Owens, 63, and Steven D. Wolfe, 67, both of Milford Township in the upper end of the county, were arraigned after surrendering Wednesday on charges of unlawful use of a computer, identity theft, forgery, official oppression, attempted theft by extortion, and related conspiracy counts.
Owens worked for the Bucks County Office of Jury Selection Commission. Bucks County Court Administrator Stephen Heckman said Owens has been fired for her alleged role in the scheme.
In an affidavit of probable cause, Bucks County Detectives alleged that Owens sent a certified letter in mid-July to a customer of her husband's handyman business over a dispute over $157.50. The customer, who lives in Berks County, was unhappy with Wolfe's June work at her home and paid him $517.25 of his $674.75 bill.
Wolfe allegedly sent the woman's mother emails complaining that her daughter "shortchanged" him and said the $157.50 debt had become "personal."
On July 19, the woman received a certified letter about the business dispute on Bucks County Office of Jury Selection Commission letterhead that features the county seal and names of President Judge Wallace Bateman, county Court Administrator Stephen Heckman, and Jury Selection Commissioner Patricia Kloenne.
The woman called the jury staff to ask about the strange letter. At the time, a woman who identified as "Lynn" picked up the county phone and said she believed "Steve sent you a letter." She further advised the woman that "maybe you should read the letter."
"That's all. Bye bye," the person who answered the jury room phone said.
County detectives learned of the situation last week when the woman and her four children went to the Bucks County Justice Center and asked about it at the Clerk of Courts Office.
Detectives said they retrieved emails from Owens' work account and found one to Wolfe that appeared to reference the letter. A document attached also turned out to be the one send to the woman on county letterhead.
In court papers, detectives said they spoke with Owens on Monday and she admitted to creating the letter on her work computer and emailing it to Wolfe. She also advised that it was sent via certified mail with county letterhead and an official envelope.
"Wolfe had asked her to draft a letter which appeared official in order to 'prompt' [the woman] to pay the $157.50 to Wolfe," detectives said Owns told them.
Wolfe told detectives on Monday that he signed the letter Owens created to "send a message" to the woman.
District Judge Mark Douple arraigned the couple via video and bail was set at $25,000 unsecured.
Editor's Note: All individuals arrested or charged with a crime are presumed innocent until proven guilty. The story was compiled using information from police and public court documents.