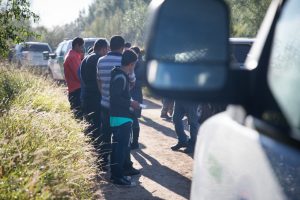 Congressman Brian Fitzpatrick will lead a trip to the Mexico-American border on Tuesday.
The second-term Republican's office announced the trip will involved Republicans and Democrats as they tour U.S. Customs and Border Protection facilities in Hidalgo County, Texas. The tour will also be led by Democratic Congressman Josh Harder from California. Fitzpatrick and Harder are members of the bipartisan Problem Solvers Caucus.
Hidalgo County features the busy McAllen crossing, miles of border, and a large migrant processing center.
"The humanitarian crisis on America's Southern border has been politicized to an unacceptable degree," Fitzpatrick said in a statement. "Cutting through the noise requires visiting areas most affected to listen, learn, and find lasting bipartisan policy solutions."
"We've heard heartbreaking stories coming out of this very detention center – I need to see with my own eyes the conditions these families are living in," said Harder. "This bipartisan fact-finding trip will allow us to see the situation on the ground and report back to folks at home about what exactly is going on at the border."
Fitzpatrick has said in the past that he supports securing the border and comprehensive immigration reform. The congressman has also stated he supports a comprehensive assessment of the southern border that provides options for Congress to evaluate as they spend money to beef up security.
In spring, Fitzpatrick voted to send $4.6 billion to federal agencies tasked with dealing with the border and migrants who have entered the country.
Last summer, Fitzpatrick and a group of bipartisan lawmakers visited a government-operated detention site for migrant minors in Tornillo, Texas.