By Ed Mahon & Brett Sholtis | PA Post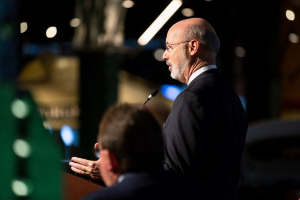 Gov. Tom Wolf planned to sign an executive order on Thursday to "make sweeping changes to executive branch agencies" to reduce gun violence.
Hours after the Wolf administration announced details for the signing ceremony, multiple Philadelphia police officers were shot and a standoff with at least one suspect stretched out for hours.
Wolf postponed the signing ceremony and news conference out "of respect for the officers injured and the ongoing situation in North Philadelphia," his office said in a news release.
Earlier, the governor's office said the gun order will include nearly two dozen new initiatives and reforms that fall under four primary categories:
New oversight and data sharing;
Reducing community gun violence;
Combating mass shootings;
Addressing the rising number of gun-related domestic incidents and self-inflicted shootings.
"We simply are not doing enough to stop people from dying and to give communities the peace of mind that they deserve," Wolf said in a news release. "This order will make sure the executive branch is doing more and focusing on gun violence as both a public safety problem and public health crisis."
But there are limits to what Wolf can do on his own.
Wolf wants federal lawmakers to ban assault-style weapons. On Thursday, Wolf planned to urge Pennsylvania's GOP-controlled General Assembly to pass legislation creating:
safe storage requirements to reduce accidental shootings;
extreme risk protection orders that allow courts to temporarily remove people's gun rights if they are considered a risk to themselves or others;
increased background check requirements, so they cover all gun purchases.
"There's a good case to be made that across the board we can be doing more to combat the violence aspect of gun violence," said Wolf's press secretary, J.J. Abbott, "even if we're still waiting for legislative changes to be made around guns themselves."
The governor's planned action on gun violence comes in the wake of mass shootings in Texas and Ohio that took the lives of 32 people. A recent Franklin & Marshall poll found that nearly two-thirds of Pennsylvanians support some sort of action on gun control.
A Republican state representative from the Philly suburbs, Todd Stephens, urged leaders in his own party to make gun-violence a top priority when lawmakers return in the fall. Lisa Baker, the Republican chairwoman of the Senate Judiciary Committee, said she planned to hold public hearings in response to the mass shootings.
Nationally, some GOP legislators have come forward in the last week to support some limited gun reforms.
President Donald Trump has called for some action at the federal level, including some form of an extreme risk protection order. Democrats in the U.S. House of Representative have already passed several gun control measures this year, but to date the Senate has failed to take them up. Senate Majority Leader Mitch McConnell of Kentucky last week said the GOP-controlled chamber would debate at least some gun measures when senators return from the August recess.
In postponing Thursday's public announcement, Gov. Wolf's office did not give any indication about a new date for his signing of the executive order on gun violence.
PA Post is a digital-first, citizen-focused news organization that connects Pennsylvanians with accountability and deep-dive reporting.