By Dave Lemery | The Center Square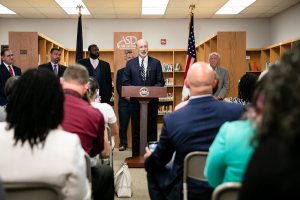 Gov. Tom Wolf took aim Tuesday at what he described as a lack of accountability and transparency in the state's charter school system, announcing an executive order designed to make charter administrators behave more like traditional public school leaders.
Speaking at a news conference in Allentown, the governor said that the state's transparency laws make it reasonably easy for taxpayers to track how their money is being spent in the public school system. But when public dollars are spent in charter schools, the outcomes are opaque, he said.
"[Pennsylvania's charter school law] has gained national notoriety for being one of the most fiscally irresponsible laws in the nation, a law that has forced some school districts to increase property taxes way out of proportion to the educational outcomes," Wolf said. "And I want Pennsylvania to be known for having a good charter school law, one that emphasizes quality and accountability, transparency, fairness and fiscal responsibility."
The governor, a Democrat, announced a three-pronged series of steps that he intends to take to address the matter. First, he announced an executive order to charge the state's charter schools for the costs of administering them, what he called a "fee-for-service" model.
"These costs include payment processing and legal and administrative support for the Charter Appeals Board," he said. "This will allow the department to recoup the costs associated with administering the charter school law."
Other steps include expanding ethics rules that apply to public school boards and administrators to include charter school leadership, he said, and mandates on transparency in charter school spending. And Wolf said he would be pressing the Republican-controlled legislature to enshrine the changes in law in a comprehensive charter school reform package.
"These proposals will help build up the entire charter school system and hold all charter schools accountable to the same standards we set for traditional public schools and to the same standards the high-quality charter schools already hold themselves accountable to," the governor said.
In a statement shortly after Wolf's news conference, Senate Appropriations Committee Chairman Pat Browne, R-Allentown, called for a special session of the legislature to be convened to address charter schools.
Browne said that the charter school funding mechanism established 22 years ago in Pennsylvania was no longer serving the needs of traditional public school districts or the charter schools.
"Unfortunately, notwithstanding significant activity over the past 10 years, the legislature has been unable to address the issue of charter school funding as there has been an inability to find a solution that works for both the traditional public schools and the public charter and cyber charter schools," Browne said. "So, I understand why the governor is making this announcement today. However, I believe we need to take this opportunity and use it to call for a special session on charter school funding to allow for a complete and comprehensive dialogue regarding the challenges with how we currently fund charter schools and to develop solutions that, in the end, are in the best interest of our students and the quality education they deserve."
The governor's relationship with school choice advocates in Pennsylvania has been rocky at times this year after he vetoed a bill by Republican House Speaker Mike Turzai that would have more than doubled the amount of money available for the Educational Improvement Tax Credits. The program, which allows companies to fund scholarships to private and charter schools in exchange for tax breaks, has been so popular with students in recent years that about half of the applicants in 2018 were turned away.
During the budget negotiation process in June, the governor did assent to a smaller, $25 million increase in the EITC program, less than the $100 million increase proposed in Turzai's bill.
On Tuesday, Wolf emphasized that he sees value in charter schools, pointing out that his wife, Frances Wolf, helped found a charter school in York County. But he said that while charter school populations have grown by 95 percent in the past decade, costs for charter schools have gone up by 135 percent.
"Because tuition rates are fixed, locally elected board members cannot make choices to reduce the cost of charters," Wolf said. "To offset the loss districts must instead raise revenue primarily through raising property taxes. … And because cyber charters are not based in one district, they don't receive any input from local school boards. This has left some districts paying thousands of dollars to cyber charters, over which they have no say and which may not be providing their children and their district with the education we all need them to get. This isn't good for anyone."