By Ed Mahon & Brett Sholtis | PA Post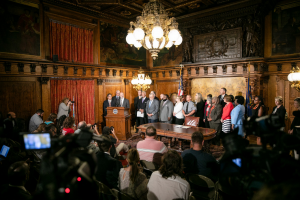 Following two consecutive mass shootings in Philadelphia — and nearly two weeks after mass shootings in Ohio and Texas — Democratic Gov. Tom Wolf signed an executive order Friday laying out a plan to reduce gun violence.
The signing, originally set for Thursday, was postponed after six Philadelphia police officers were wounded by an armed man who Wolf said "had enough weapons and ammunition to hold dozens of Philadelphia police officers at bay for eight hours."
While recent events highlighted the governor's action, the plan has been in the works for months, Wolf said. The order includes nearly two dozen actions, such as sharing gun violence data with other states and expanding programs to spot warning signs for potential mass shooters and monitoring hate groups.
"The actions I'm announcing today include provisions for Pennsylvanians from all walks of life and looks at gun violence from all angles," Wolf said at a Capitol press event attended by many Democratic legislators.
The governor tasked Pennsylvania Commission on Crime and Delinquency Chairman Charles Ramsey to lead the effort.
The former Philadelphia police chief said he would approach the problem not only as a crime issue but also a public health issue. Suicide accounts for 60 percent of gun deaths, and accidental deaths are also a problem, Ramsey said.
State Sen. Anthony Williams, a Philadelphia Democrat, noted that the day after six officers were wounded, five more people were shot in the same neighborhood.
"This is a stain on humanity," Williams said.
State Rep. Jordan Harris, also from Philadelphia, echoed Ramsey's description of gun violence as a public health crisis.
"I live in a city where you can't even sit on your porch safely without ducking and dodging bullets," he said.
"I applaud the executive action taken by Gov. Wolf to address the daily occurrence of gun violence," local Democratic State Sen. Steve Santarsiero said in a statement after the governor's announcement. "The Pennsylvania General Assembly must now do its part and hold votes on common sense gun safety measures. During what can only be described as a public health crisis, refusing to vote on these measures would be grossly irresponsible on the part of the legislature."
Bristol Township-based State Rep. Tina Davis, a Democrat, said this following the governor's event: "Working with the governor, I believe the legislature can find a middle ground between protecting gun rights and preserving public safety to strengthen our gun laws to address the epidemic of gun violence in the commonwealth."
Republicans, who hold a majority in both chambers of Pennsylvania's General Assembly, offered a mixed response to Wolf's order.
Michael Straub, House Republican spokesman, noted that GOP legislators are already taking the lead on targeted gun reforms. State Rep. Todd Stephens of Montgomery County, Straub pointed out, is a prime sponsor of an extreme risk protection order bill, and Rep. Chris Quinn of Delaware County is prime sponsor of an expanded background check bill.
Straub also stressed that the alleged perpetrator in the Philadelphia police shooting is an example of the limits of what tougher gun laws can do.
"It proves once again that criminals will not follow changes we make to existing firearm laws, and we must examine the root cause of violence, distress and mental illness in our communities before we force changes upon the millions of Pennsylvanians who legally and responsibly own firearms and obey our laws," Straub said.
Republican state Rep. Jason Ortitay of Washington and Allegheny counties said "some portions of the governor's order are of sound logic," but others are unconstitutional.
Details on Wolf's order
The Democratic governor supports increased gun restrictions, including expanded background checks, safe storage requirements and the creation of extreme risk protection orders.
But Friday's executive order focuses on areas to prevent gun violence within the executive branch. Wolf directed Pennsylvania's executive branch to increase oversight and data sharing through a number of steps:
the creation of an Office of Gun Violence Prevention to focus on the issue;
directing all departments to combat systemic causes of violence, including poverty, economic opportunities, mental and behavioral health.
creating a Violence Data Dashboard with the goal of providing a better understanding of the scope, frequency, geography, and populations affected by violence.
To target gun violence at the community level, Wolf's plan calls for expanding and supporting gun buyback programs through the Pennsylvania State Police and municipal police departments.
It also directs state police and Municipal Police Officers' Education and Training Commission to develop training on community gun violence prevention and focused deterrence.
And the plan says the Wolf administration will partner with courts to increase the use of juvenile justice programs that have a proven track-record of reducing violent crimes.
To confront the problem of mass shootings, Wolf's plan:
tells state police to expand its monitoring of hate groups, white nationalists, both online and in-person.
enrolls Pennsylvania in the "States for Gun Safety" coalition, a multi-state partnership that shares information related to gun violence.
expands programs aimed at helping first responders and regular people spot warning signs for mass shootings.
The plan also directs the Suicide Prevention Task Force, which Wolf created in May, to make immediate recommendations on steps to reduce suicides by gun. It also calls for a Suicide Death Review Team, charged with increasing data collection and assisting prevention efforts and policy decisions.
In announcing the executive order, Wolf pointed to the number of gun deaths in Pennsylvania: More than 1,600 in 2017, according to the Centers for Disease Control and Prevention.
The state's age-adjusted gun death rate was 12.5 per 100,000 people in 2017 — higher than the national rate of 12 gun deaths per 100,000 people.
Neighboring New York had one of the lowest rates the same year– 3.7 gun deaths per 100,000 people in 2017. Alaska's rate was the highest: 24.5 gun deaths per 100,000 people.
PA Post is a digital-first, citizen-focused news organization that connects Pennsylvanians with accountability and deep-dive reporting.