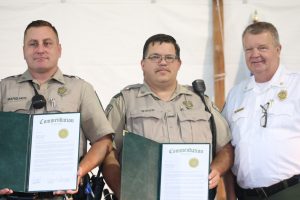 A program implemented more than a decade ago in Bucks County is credited with helping two men struggling with thoughts of suicide.
Bucks County rangers George Shaver and Joseph Marquart were honored last week for their efforts on two trying calls from July. The Bucks County Commissioners handed the two commendations for their work dealing with suicidal individuals who were on county park property.
On July 3 around 10:25 p.m., Marquart stumbled upon two empty vehicles at Dark Hollow Park in Warwick. He eventually discovered a group of friends searching for their 20-year-old friend who had sent text messages indicated he wanted to harm himself. The friends said the young man did not take his anti-depression medication. Warwick police assisted, and the young man's mother was contacted. In the parking area, the missing young man appeared covered in mud and sweating. Marquart placed the man in his patrol vehicle with a bottle of water. The ranger learned the young man had ongoing thoughts of suicide. The young man was taken to Dolyestown Hospital and sought mental health treatment.
On July 14 around 5:45 p.m., Shaver was dispatched to Peace Valley Park in New Britain Township for a report of a 27-year-old man who was suicidal and wanted someone to help him get treatment. The ranger arrived to find the man distraught in his vehicle. Shaver was able to transport the man to Doylestown Hospital's crisis center to get him help. During the ride, the man talked to his sister on the phone before arriving at the hospital and working with the ranger to fill out paperwork. The man worked with law enforcement and was involuntarily committed for treatment. The ranger ended up finding a rope in the man's car, and the man said he planned to use it to hang himself.
The two rangers were recognized by Commissioner Diane Ellis-Marseglia for "ably and professionally" handling the delicate situations.
"We present this commendation not only to recognize a job well done under sensitive circumstances, but also to commend both of you for participating in the county's 40-hour crisis intervention training and putting that training to effective use," Ellis-Marseglia said.
Rangers Shaver and Marquart both took part in the county-wide Crisis Intervention Team (CIT) training. The program is aimed at teaching police and rangers to handle people dealing with mental health issues while offering techniques to help those in need, put people on the path to treatment, reduce the stigma surrounding mental illness, decrease use of force, and reduce chances for injuries to police and those dealing with crisis.
The CIT program started in Bucks County in 2008 with support from the Bucks County Commissioners, National Alliance on Mental Illness of Bucks County, and law enforcement. More than 400 county law enforcement officers have undergone the training.
Bucks County Rangers Chief Steve Mawhinney thanked the county for supporting the CIT program.
"Many years ago when I started in police work, the program did not exist and I dealt with many people in unstable situations and didn't know how to deal with them," Mawhinney said, adding he was happy the training exists.