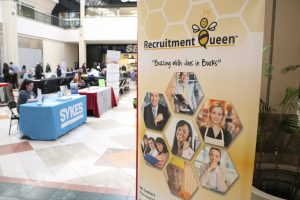 Whether job seekers are already employed but looking for something better, or are between jobs, RecruitmentQueen is offering the perfect opportunity to reach both audiences: A dual career fair on the same day.
The Bucks County-based digital job board will hold the Bucks County Job Expo at Neshaminy Mall on Sept. 17. Unlike previous job fairs RecruitmentQueen has hosted over the last six years, this event features two sessions, the first, from 9 a.m. to 1 p.m. and the second, from 3 p.m. to 7 p.m.
The goal, according to RecruitmentQueen CEO and founder Jennifer Schultz, is to make the job expo available to a wider audience of local people looking for work.
"I'm trying to remove any obstacle that could potentially keep a job seeker from attending," Schultz said, adding that the two sessions open the doors for new employers, as well as companies seeking employees for shift work.
In all, hundreds of jobs will be available at the job expo, which is expected to feature career opportunities from more than a dozen employers. So far, the following employers have signed up to exhibit: (day session) All American Home Care & Hospice, Debt Quest USA, Sykes Enterprises, Friends Hospital, Traffic Plan and PA Career Link; (night session) Sykes Enterprises, Pennswood Village and Health Advocate.
RecruitmentQueen will add employers until soon before the event.
Positions are available in various industries, including healthcare, human resources, customer service, sales, administrative and more.
Job seekers will have the opportunity to network with and speak to local recruiters and hiring managers. Even though the career fair is held at a shopping mall where dress codes do not apply, job seekers should dress for success, according Schultz said. Professional attire is recommended.
If you go
RecruitmentQueen's Bucks County Job Expo will be held in the Barnes & Noble Court at Neshaminy Mall, 707 Neshaminy Mall in Bensalem. The first session will run from 9 a.m. to 1 p.m. and the second session will run from 3 p.m. to 7 p.m. Employers interested in registering for the career fair can click here: https://www.eventbrite.com/e/bucks-county-job-expo-employer-registration-september-17th-tickets-63774752000 or call Jennifer Schultz at 267-981-5976. Job seekers can register to attend by clicking here: https://www.eventbrite.com/e/bucks-county-job-expo-job-seeker-registration-tickets-63778348758
About RecruitmentQueen 
www.RecruitmentQueen.com is a hyper-local digital recruitment job board dedicated to employers and job seekers in Bucks County, Pa. The site offers custom recruiting solutions including a job network portal. The Web site reaches thousands of job seekers across thousands of regional, industry, niche and diversity job sites and job search engines.