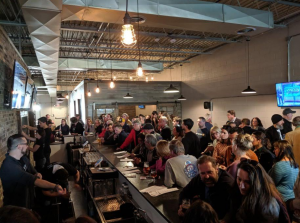 There was a packed house Friday evening for the Newtown Brewing Company's much anticipated opening.
The Newtown Township taproom and production facility at 103 Penns Trail is 5,000-square-feet opened its doors just after 5 p.m.
Owner Gregg and Sara Bonstein greeted customers and local business and government officials as they joined in to try the Newtown Brewing Company's creations.
The taproom features the brewing company's beer and also a locally-crafted cider, Sara Bonstein said.
The taproom does not serve food, but Newtown Brewing Company welcomes customers to bring their own food and snacks.
This time last year, work was starting on construction of the taproom that features an open seating area and a semi-private space that can fit close to three dozen people.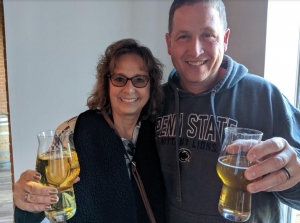 Gregg Bonstein said he left his job as a chemical engineer in quality control a few years back and turned his home brewing hobby into his new job. He worked as a brewer at Triumph Brewing Company of New Hope and Blueprint Brewing Company in Towamencin Township, Montgomery County.
The Bonsteins are 15-year residents of Newtown Township and their kids attend the Council Rock School District. The couple said during the process of looking for a location in Bucks County to open their brewery, they were able to settle on their hometown. 
Newtown Brewing Company marks the township's first brewery.