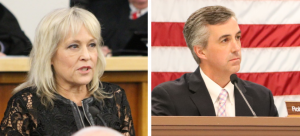 Democrats staged a massive win in Bucks County on Tuesday.
According to preliminary election results, Democrat Diane Ellis-Marseglia, of Middletown, was reelected to the Bucks County Commissioners. Her Democratic running mate Bob Harvie, a history teacher from Falls Township and the chair of that town's Board of Supervisors, was also elected. Republican Commissioner Chair Robert Loughery, of Bedminster, lost his race but his running mate State Rep. Gene DiGirolamo, of Bensalem, won the role as the minority on the governing body.
Aside from marking the first Democratic majority on the Bucks County Commissioners since the late 1980s, the election outcome also means that all three Commissioners are from Lower Bucks County.
Loughery conceded the race at the party headquarters in Doylestown Borough shortly after 12:15 a.m. Wednesday while Democrats were celebrating at a ballroom in Upper Southampton.
In the Register of Wills race, Democrat Linda Bobrin beat out incumbent Republican Don Petrille.
Republican Treasurer Tom Panzer will only serve one term as Democrat Kris Ballerini ended up earning more votes.
The Clerk of Courts office will be led by Democrat Brian Munroe, a veteran and former police officer. Longtime Clerk of Courts Mary Smithson lost her reelection bid.
Republican Coroner Dr. Joseph Campbell was unseated by Democrat Meredith Buck, a registered nurse and attorney.
Tuesday's big win for Democrats means District Attorney Matt Weintraub will be the lone remaining Republican row officer come 2020. Just a few years ago, Republicans held a tight grip on the row offices.
In 2017, Democrats won four of five row office seats. The wins shocked the Republican party and followed the election of Republican President Donald Trump.