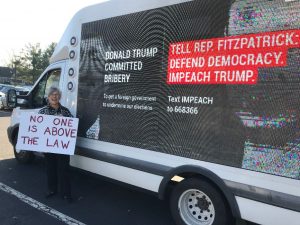 A billboard truck with a message targeting Congressman Brian Fitzpatrick was in the area this week.
Liberal groups MoveOn and Need to Impeach commissioned the truck as part of a nationwide campaign. The billboard truck made stops outside the Bucks County Republican Committee offices in Doylestown Borough, Fitzpatrick's office at Simmitt Trace in Middletown, the Bucks County Courier Times and The Intelligencer offices at the Oxford Valley Mall in Middletown, and the Neshaminy Mall in Bensalem.
The billboard truck had the following message: "Donald Trump committed bribery – Tell Rep. Fitzpatrick: Defend democracy. Impeach Trump."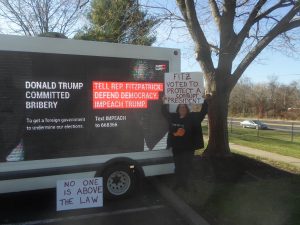 Fitzpatrick, a Republican, told NewtownPANow.com last week that he had not seen enough to push him to vote to impeach the president. However, he stated he found the president's conduct relating to military aid for Ukraine "troubling."
A MoveOn spokesperson said the billboards were targeting Republican lawmakers who have split with Trump on key votes, those who represent moderate districts, and ones who are tiring.
Democratic Congressional Candidate Debra Wachspress, a Pennsbury School Board member from Lower Makefield, came out to see the billboard along with several activists outside Fitzpatrick's district office.
Steve Cickay, a Newtown resident who previously worked for the federal government, was also at the event outside Fitzpatrick's office. He said "it continues to mystify me" that former FBI special agent Fitzpatrick has not supported the impeachment inquiry.