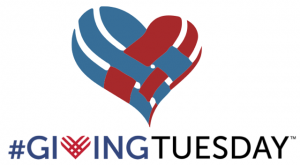 Giving Tuesdays kicks off the charitable season, and a number of nonprofits in Bucks County are taking part.
Giving Tuesday began in 2012 to encourages people to do good by donating their time or money. The event was designed to follow big shopping holidays Black Friday and Cyber Monday.
"Over the past seven years, this idea has grown into a global movement that inspires hundreds of millions of people to give, collaborate, and celebrate generosity," according to the Giving Tuesday website. "Giving Tuesday has raised billions of dollars for critical causes around the world."
Last year, Giving Tuesday across the globe reported 3.6 million donations that led to $400 million donated.
Bucks County's Giving Tuesday effort lists about 100 nonprofit organizations that support local causes.
"We have watched Giving Tuesday grow for a small movement to an international movement of doing good. For our center, Giving Tuesday gives the and business community a chance to partner with us to serve seniors and for our participants and friends of the center a way to give back to seniors that have done so much for their communities over their lives. The donations help us combat isolation and poor nutrition, while helping seniors stay independent and vital as well," said Bonnie Worth, director of the Bristol Township Senior Center.
For the Bristol Township Senior Center, Giving Tuesday is more important than ever after the organization has seen the loss of major fundraising dollars due to construction this year.
The senior center's Giving Tuesday fundraising campaign features matching donations of over $6,000 thanks to numerous businesses and members and friends, Worth said.
Donations to the senior center can be made via the organization's website.
For the Heritage Conservancy, which has preserved more than 15,000 acres of land in Bucks and Montgomery counties, Giving Tuesday shines a light on the work they do.
"This year, Heritage Conservancy's annual appeal is tied directly to our mission of preserving and protecting our natural and historic heritage. Funds raised will activate the resources that could lead to the permanent preservation of a landmark farm, critical drinking water source, or wildlife habitat," said Alexandra Dashkiwsky, marketing and communications coordinator for the Heritage Conservancy.
The Bucks County Opportunity Council, according to Joe Cuozzo of the organization, has seen the benefits from Giving Tuesday in multiple ways.
"First, donations come in on Giving Tuesday. Secondly, Giving Tuesday raises the awareness of charitable giving throughout Bucks County, the Philadelphia region and the United States in general. There are many wonderful resources here in the County and Giving Tuesday gives an opportunity to highlight them," he said.
The Bucks County Opportunity Council receives about 35 percent of their annual budget through fundraising. The money supports efforts to help Bucks Countians become self-sufficient while building resources for the group.
"Whether it is helping a homeless individual move into permanent housing, preventing an eviction for a local family, providing local pantries with fresh produce, meats, and other foods so that our neighbors do not go hungry, or creating opportunities for people to access needed resources to be more self-sufficient, we count on the support of this community to make it happen. Every program, every resource we offer is a mix of public and private funding," Cuozzo explained.
Rita Brouwer-Ancher of A Woman's Place said the nonprofit benefits every year from Giving Tuesday.
"A Woman's Place sees a surge of donations that are a combination of new donors and existing donors. The joy of getting each type of donor is in the realization that our word is spreading. For each donation A Woman's Place receives, our story has been shared many times over. The ripple of generosity grows. And it's not just about money; A Woman's Place seeks to inspire people to improve their local communities, give back to the charities and causes they celebrate, and help create a better world," she said.
Brouwer-Ancher explained that most Giving Tuesday donations are between $25 and $100.
"The impact is felt in the opportunity to share A Woman's Place's story, in union with hundreds of other non-profits throughout the country. The positive impact lives with the opportunity to reach out to donors, share the need in the community and ask from the heart," she said.
The United Way of Bucks County's Holiday Gift Card Drive is a program aims to also benefit from Giving Tuesday donations. The Holiday Gift Card Drive, which is supported by this news organization, has a goal of serving 1,200 older kids and teens throughout Bucks County.
"When the holidays come around, that's just another struggle for those families who are struggling to provide every day basic needs. For a lot of us, it's a happy time. For those struggling, it's an added stress, said Danielle Bush, who heads the United Way of Bucks County's Holiday Gift Card Drive.
The programs supported by Giving Tuesday need your support and will help the local communities, the nonprofits organizations all said.
"It is the day the attention turns to doing good and giving back. That is what the holiday season means to us," said senior center director Worth.