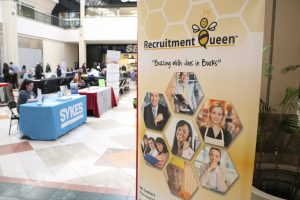 Despite the current low unemployment rate, employers are looking to fill positions locally in the Bucks County area and if you are looking, this could be your chance to get hired.
RecruitmentQueen is hosting their annual New Year, New Career Job Fair on Tuesday, January 14. The job fair is a multi-industry event which means you will be able to talk to employers from diverse industries ranging from sales to healthcare, financial to customer service and much more.
Jennifer Schultz, the event organizer and RecruitmentQueen owner, shared that attending a job fair is the best way to stand out in today's tight labor market, "With most employers requiring that job seekers apply online, it can be challenging to stand out from the crowd.
"She indicated that so much has changed during the past 15 years when it comes to trying to get hired, "today you can't just walk into an employer and hand them your resume or ask to speak with their hiring manager, this is why it's so important to not miss an opportunity like a job fair."
Job fairs are just as important to an employer as they are to job seekers. Employers get the chance to introduce their company brand and be visible in the community when they participate in a job fair. Their commitment to a hiring event really allows them to express what their company does and why they are a great place to work.
Schultz says there are 3 tips to making sure job seekers are prepared on the day of the job fair:
Make sure you have an updated resume and plenty of copies. Do not come with handwritten information or errors on your resume.
Make sure you dress as though you are going to an interview. While the event takes place at the mall, you still want employers to know that you are serious about getting a job.
Do your homework about which employers are going to be at the job fair. This will help you to know what employers to make sure that you talk to, however, be open to talking to other employers.
The New Year, New Career Job Fair will be held at the Neshaminy Mall in the Barnes and Noble Court from 9am to 1pm on January 14. All job seekers can register at the job fair the day of the event. Job seekers can see a list of employers that will be hiring at the event on RecruitmentQueen.com
Current employers who are hiring at the job fair: Friends Hospital, The First National Bank and Trust Company of Newtown, Sykes, Univest, Traffic Plan, Salute2Service, and PA CareerLink.
Employers who wish to participate can contact Jennifer Schultz at 267-981-5976 or Jennifer@recruitmentqueen.com.