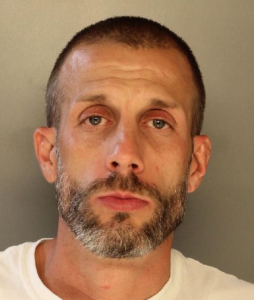 A man suspected of being involved in a number of Bucks County mom-and-pop business burglaries was taken into custody after a high-speed chase.
David Anthony Andrauskas, 37, of Philadelphia, was arrested in Bensalem last Saturday following an early morning high-speed chase that started after an officer pulled him over on Haunted Lane in Bensalem. Andrauskas fled down State Road toward Philadelphia at speeds as high as 100 mph. He was later captured, according to court papers.
Bensalem police said Andrauskas was behind early February burglaries at the Brodies Ice Cream Bar on Bensalem Boulevard and the Belly Busters Restaurant on Route 13.
During an interview with Bensalem investigators, Andrauskas admitted to a number of recent business burglaries in the county. However, court papers filed in Bensalem did not spell out the incidents he allegedly admitted to while talking with investigators.
Reporters from the New Hope Free Press, LevittownNow.com, and NewtownPANow.com reviewed a number of recent local burglaries cases and spotted several similarities, including the look and attire of the suspect in surveillance system images that have been released. In many of the incidents, the suspect went for the cash register, skipping other items that might be easily taken. The burglaries took place in Bensalem, Bristol Borough, Langhorne Borough, Newtown Borough, New Hope, and Upper Makefield.
Last week, Annabella's Italian Restaurant on Radcliffe Street and Chuck's BBQ on Pond Street in Bristol Borough were hit early Thursday and their empty cash registers were opened.
Bristol Borough police officials on Tuesday confirmed Andrauskas is a suspect in those two incidents. They added a detective is working to arrange an interview with Andrauskas.
On Tuesday evening, Newtown Borough police, which recently reported a series of overnight business burglaries, filed charges for multiple burglaries against Andrauskas.
Upper Makefield police posted on social media that Andrauskas was the suspect in the February 4 burglary of Dominick's Pizza in the 1200 block of General Washington Memorial Boulevard. 
A law enforcement source said multiple local departments and the Pennsylvania State Police have been in communication about recent burglary cases and Andrauskas' potential connection.
Bensalem police said one of their officers spotted the vehicle Andrauskas was driving, which belonged to this mother, during patrol duties early last Saturday. The vehicle was missing a front hub cap and was also spotted at the scene of the early February burglary at the Belly Busters Restaurant.
Andrauskas pleaded no contest to a 2010 burglary in Bensalem and served jail time. He was found guilty and served probation for drug offenses in Philadelphia in 2013 and 2015. He is presently awaiting trial in Philadelphia for stealing the "poor box" at a church in Northeast Philadelphia last summer, according to court records.
Andrauskas was arraigned and sent to the county prison unable to post bail last Saturday afternoon by on-call District Judge Maggie Snow on charges related to fleeing police and the two Bensalem burglaries. He is awaiting arraignment in the Newtown Borough case. More charges are likely to be filed as the investigation progresses.
New Hope Free Press Publisher Charlie Sahner contributed to this report.
Editor's Note: All individuals arrested or charged with a crime are presumed innocent until proven guilty. The story was compiled using information from police and public court documents.