By Christen Smith | The Center Square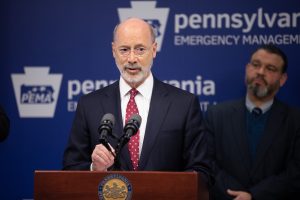 Gov. Tom Wolf said Monday his phased economic reopening plan will begin May 8 when construction across the state will resume on a limited basis.
"We've given up a lot … and it has not been easy, but it has paid off," he said during an afternoon news conference. "Our new case numbers have stabilized, and we've prevented the patient surges we were all so concerned about."
The Department of Health reported 948 new cases of COVID-19 on Monday, bringing the statewide total to more 33,000. Some 3,000 patients remain hospitalized and 1,204 have died.
"When we open up on May 8, people are still going to have to exercise caution," Wolf said. "Life is going to be different on the other side of this. We are going to go as fast as we reasonably can."
Wolf said he will also sign Senate Bill 841, which will authorize virtual notary services and allow car sales to be completed without in-person contact. The state likewise rolled out curbside pickup at 176 liquor stores Monday and said, if all goes well, other retailers will be allowed to do the same, starting next month.
"Everybody wants to get through this phase as quickly as possible," Wolf said. "If I could snap my fingers or wave a magic wand to get back to where we were in January, I'd do it in a heartbeat. If we do it too quickly, we will face consequences."
As expected, Wolf vetoed Senate Bill 613, a GOP-backed plan that would have allowed businesses to reopen according to guidelines set by the federal Centers for Disease Control and the Cybersecurity and Infrastructure Security Agency (CISA). The administration has long criticized the CISA parameters, in particular, as too broad to contain Pennsylvania's coronavirus outbreak – the fifth worst in the nation.
"Reopening tens of thousands of businesses too early will only increase the spread of the virus, place more lives at risk, increase death tolls and extend the length of the economic hardships created by the pandemic," he said.