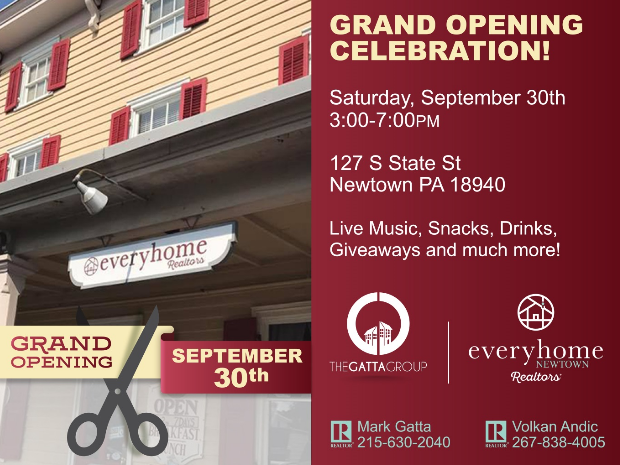 A real estate group, with over two decades of experience and a concentration on making the home buying and selling process simple and personalized has come to Newtown Borough.
EveryHome Realtors in conjunction with the Gatta Group, will celebrate the grand opening of their second office, at 127 S. State Street, this Saturday, September 30 from 3 to 7 p.m. They have invited the public to come celebrate the opening and meet the team with live music, snacks, drinks, giveaways, and more.
The Gatta Group team, already familiar with real-estate in the Newtown area, have also experienced the vibrancy of life in the borough since many are residents of the area.
The idea of opening a second office in Newtown Borough was the brainchild of agents Mark Gatta and Volkan Andic.  As two of the industry's top producers, Gatta and Andic joined hands in real estate investing and sales to expand Everyhome Newtown with The Gatta Group composed of 10 seasoned agents.
Everyhome Realtors began in 1999 in Harleysville and started as a boutique office of 12 agents. Fast forward to 2017 and Everyhome has grown to over 90 agents and has expanded into four more states including Delaware, New Jersey, Maryland, and New York.