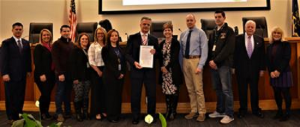 Bucks County's chief adult probation officer is retiring.
Chief Séan R. Ryan has led the county's Adult Probation and Parole Department since 2007. He retires Friday and his replacement has not yet been named.
Earlier in his career, Ryan worked for 19 years as a Bucks County adult probation officer, supervisor and deputy chief. He left for 11 years when Gov. Tom Ridge appointed him to the Pennsylvania Board of Probation and Parole, where he served two terms from 1995 to 2006.
Ryan, 66, of Hilltown Township, has oversight of a staff of 82 adult probation officers, managers, and support workers. The department is responsible for supervising about 10,700 offenders placed on probation or parole by the Bucks County Court of Common Pleas.
"Séan's a special guy. He's had a long, long career in public service, in a difficult arena," Bucks County Commissioners Chairman Robert G. Loughery said last week.
The Commissioners presented Ryan with a proclamation and a commemorative Mercer tile.
"I just want to thank my staff and the Court of Common Pleas and the Commissioners for all their support," Ryan said. "I wish you the best of luck in the future."
Growing up in the tiny western Pennsylvania coal town of Bobtown, Ryan's widowed mother, a secretary for the local school district, sent him to the Milton Hershey School in Dauphin County. At the school, the future law enforcement official excelled in academics and football, was elected student body president, and earned a scholarship to attend Juniata College in Huntingdon County. Ryan earned a degree in social psychology at Juniata, where he was co-captain of the football team and earned second-team All-State honors as an offensive guard. He went on to graduate school at Lehigh University and achieved a master's degree in social restoration while also teaching death row inmates at State Correctional Institution Graterford and co-facilitating a sex-offenders' therapy group, a press release stated.
Ryan initially was hired by Bucks County in 1976 and served as deputy chief adult probation officer by 1987. Among his achievements was creating, in concert with the Network of Victim Assistance, an innovative sexual offender intervention program.
In addition to his work for the state and county, Ryan has consulted for the Archdiocese of Philadelphia, taught criminal justice courses at Temple University and Bucks County Community College, and served on corrections-related boards.